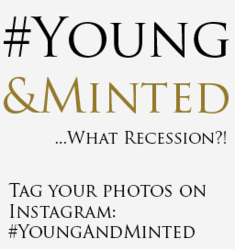 The site has come on so fast and got a lot of attention since it appeared on the BBC a few months ago
London UK (PRWEB UK) 15 May 2013
YoungAndMinted.com have announced that they are soon to be adding to their controversial website by enabling users to create their own profile pages where they can share their luxury lifestyle photos.
"The site has come on so fast and got a lot of attention since it appeared on the BBC a few months ago. The traffic has gone up and people are flocking to the site to find out what people get up to when they are let lose with their money. The tags are coming in thick and fast and people are sharing their exciting times whilst enjoying themselves. It's great and the response and feedback has been simply fantastic." says the company founder.
The site enables people to tag photos of themselves enjoying the money they earn. This has caused a fair bit of controversy over the past few months, but it's all in the aim of inspiring a generation to enjoy their success.
The announcement came as no surprise because these websites grow and develop and as they get more and more popular, they evolve.
The new addition to the website will be released soon on http://www.YoungAndMinted.com