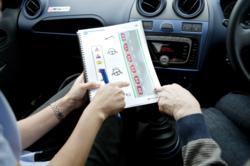 Investing time with young people nurtures good, responsible drivers of the future
Worcestershire, UK (PRWEB UK) 15 December 2012
Following the success of the last Young Drivers Scheme, Midlands based AHD Driving School are once again running a course aimed at young drivers from 14 to 17 years.
AHD Driving School is run by husband and wife team Anita and Simon who run driving lessons throughout the Worcestershire area. Their unswerving dedication and commitment to delivering first class driving tuition, whilst maintaining the personal touch, is their number one priority; with an exemplary pass rate indicative of their commitment and the high quality of their teaching.
Adds Anita: "The last Young Driver Scheme was so successful that bookings for this next course are selling themselves.
"Our aim is to enable under age drivers to practice and improve their driving skills legally and safely. In dual controlled vehicles, under properly supervised conditions, taking an active interest in gaining safe driver skills, our ultimate aim is to produce safer young drivers on our roads at age 17 and beyond."
Pupils with Special Education Needs (SEN) such as Autism, Asphergers, Dyslexia, Dyscalculia, Dyspraxia and much more can often find off road young driving schemes extremely helpful in introducing them to driver skills, with experienced DSA driving instructors to help them along the way on a one to one basis through specialist 'in car' training.
There are many different types of young driver schemes available, the majority of which take place on a race track, teaching speed but not necessarily skill or appreciation of other road users.
"We believe in instilling good driving practices from the start encouraging the right attitude and behaviour associated with driving responsibly." Adds Anita.
The structured course runs for 8 consecutive weeks with hour long lessons held in a safe, controlled environment away from the public highway. Both male and female course instructors are available to book, with pupils guaranteed to keep the same instructor for the duration of the course to maintain continuity.
Sessions are open to anyone aged 14 and over, with minimum height restrictions of 1.4 metres.
As well as the Young Driver Scheme and learner driving lessons for 17 years and over, AHD offers a broad range of services including Pass Plus, Advanced, Intensive and Refresher courses, Motorway Driving, Driving Instructor Training and Fleet Driver Training. To complement these services, AHD has just set up a Blog and Forum giving online support and advice for pupils and their parents at http://www.ahddrivingdoctor.co.uk. Register free via the 'Surgery'.
"Young drivers often get a hard time in the press, sometimes deserved but often through no fault of their own due to inexperience and inadequate training.
"I am passionate in my belief that investing our time at the beginning of a young person's driving life, will nurture the good, responsible drivers of the future." Concludes Anita.
Full details of the Young Drivers Scheme and AHD's other services can be found on their website.