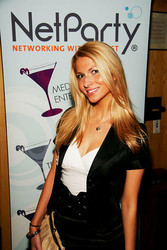 "We've been following the superior job Matt has done with Charlotte Young Professionals and its growth and we are pleased to join forces under the NetParty umbrella for the benefit of both organizations"
New York, NY (PRWEB) July 21, 2010
NetParty, LLC announced today that it has entered into an agreement to acquire "Charlotte Young Professionals", Charlotte's leading organization for Young Professionals.
NetParty, which operates NetParty.com – The Worldwide Young Professionals Network - sponsors the country's leading events for young professionals, with "real world" business and social networking events taking place in 15 cities and with more than 100,000 members.
NetParty intends to use the acquisition to enter into the Charlotte market and to further expand its active membership in preparation for the launch of two new services: its own online business and social network geared for young professionals and intended to bridge the online and offline worlds and "NetParty Nuggets," an initiative intended to provide content relevant to the business and social lives of young professionals to its national membership via email and social media.
Charlotte Young Professionals, founded in 2008, has become Charlotte's leading young professionals organization, focused on providing social, philanthropic, and career networking opportunities for Charlotte-area young professionals. According to founder Matthew Corsi, "the acquisition will provide our members with access to the national resources of NetParty and will help take the services we are delivering to Charlotte's young professionals to the next level."
Added NetParty's founder Jeff Strank: "We've been following the superior job Matt has done with Charlotte Young Professionals and its growth and we are pleased to join forces under the NetParty umbrella for the benefit of both organizations."
# # #