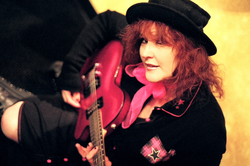 America Business: Six String Success
Los Angeles, CA (Vocus) May 4, 2010
Daisy Rock Girl Guitars, the original girl-guitar company, was thrilled to be the featured story on MSNBC's successful "Your Business" program that aired on Sunday, May 2.
The episode, entitled "America Business: Six String Success," featured Daisy Rock Founder and President, Tish Ciravolo's, girl rock revolution. "America Business: Six String Success" delved into the unique business plan that has made Daisy Rock Girl Guitar a successful, growing, female-based company, spawned from Ciravolo's experience as a frustrated female musician in the LA scene during the '80s and her need to create a better, more inviting experience for her daughters. When starting Daisy Rock Girl Guitars, Tish commented, "We had to design and come up with the very first prototype of a guitar that answered all of these needs for any female musician, from the lighter weight design and the slim & narrow neck profile, to also all the pickups and components—everything on this guitar had to just completely kill."
The story incorporated perspectives from outside the company, including Guitar Center's Dave Weiderman who remarked, "Before Daisy Rock there wasn't a specific guitar for a female, and what Tish has given us fills in that gap." The piece also showcased Daisy Rock endorsed artist Kamille Rudisill, from the group Karmina, who said, "Most of the acoustic guitars are very big, very heavy…but the Daisy Rock guitars, that's one of the greatest things about them, they are proportionally smaller to go with girls and to make it easier to play."
To view the story, visit MSNBC: Your Business online at http://www.openforum.com/yourbussinesstv or tune in to MSNBC on Sunday, May 30 at 7:30am EST for a rebroadcast of the episode.
Daisy Rock Girl Guitars offers a complete line of quality girl guitars designed to look and sound great, and to fit the female form. For more info, visit daisyrock.com now!
ABOUT DAISY ROCK GIRL GUITARS
Daisy Rock Girl Guitars is the original girl guitar company dedicated to successfully supplying and marketing professional quality guitars for females of all ages. All Daisy Rock guitars are designed specifically for the female form and feature lightweight bodies, "Slim & Narrow" neck profiles to better fit smaller hands, and are available in inspiring finishes. Daisy Rock Girl Guitars is comprised of two extensive product catalogs. "DEBUTANTE by Daisy Rock" is a line of beginner guitars that consists of Daisy, Butterfly, Heartbreaker, Star, and other models—geared specifically for younger tween/teen rockers. "DAISY ROCK" is a line of professional guitars and basses consisting of full-scale models like the Rock Candy, Stardust, and Siren series. Daisy Rock Girl Guitars' ongoing mission is to do whatever it takes to help girls play guitar and enjoy music.
Daisy Rock Girl Guitars is led by its Founder and President, Tish Ciravolo. Ciravolo is a highly acclaimed expert on female empowerment and females in music. Tish's expertise has been immortalized by her induction into the Museum of Making Music, the world's premier museum showcasing the history of the music products industry, and she is widely regarded as a visionary in the industry. Ciravolo's deep insight into the subject of girl guitars and female empowerment has made her a sought after and frequent contributor on national and international television, newspapers, magazines, websites, and radio programs including USA TODAY, People, Time, Newsweek, CNN, ABC, NBC, FOX, VH1, the Premier Radio Network, BBC Radio, and the Associated Press. Daisy Rock Girl Guitars is in over 25 countries worldwide, and is co-owned and distributed by Alfred Music Publishing.
###