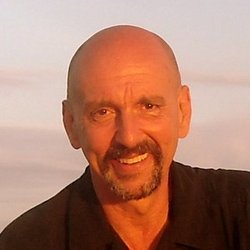 We are 'hard-wired' to deal with life more effectively
San Diego, CA (PRWEB) August 13, 2009
We all have an inner "pause button" that, when activated, can be a significant doorway to finding natural calm and happiness during these challenging times, according to California spirituality author and speaker Carlo Ami.
According to Ami, our culture has inaccurately led us to believe that more calm and happiness are to be found only in sources outside of ourselves. The rapid pace of input in this Information Age has led us into higher levels of overwhelm, fear, distraction and confusion.
"We are 'hard-wired' to deal with life more effectively," said Ami in a recent interview, "but most people have never learned how to use these capacities."
With the new website, YourPauseButton.com, Ami today revealed a new set of tools he has created to help people find higher levels of contentment and happiness while so much of the world is in fear and panic. "Quick Inner Retreats to Calm", the newly-released CD by Ami asks listeners to consider very brief ideas, using their player's pause button to stop and consider each one before moving on to the next. He suggests listening to no more than one of the 32 tracks on any day. This pausing concept is also to be found in Ami's forthcoming book, "The Seventh Direction".
YourPauseButton.com features free audio "pause sessions" as well as a text pause session for the hearing impaired. These encourage the clarification of one's beliefs about life and about the sources of calm and happiness. Ami suggested that the best answers to the most important questions come from within the self, and that simplifying brief ideas is the most effective way to go about the spiritual quest for happier, calmer living.
"An inspirational speaker delivers, on average, about 7200 words to an audience in an hour's time", said Ami, "or you might read 50,000 words in an evening. How much of that are you going to keep? How much of that, no matter how powerful, is going to touch your heart for more than a few minutes?"
He said that it helps to see the heart as a powerful pause button, and that
pure awareness of the heart is a great way to calm "any antsy mind that just does not want to shut up." He said that enlightenment is largely a process of quieting the chaotic mind and tuning into the innate wisdom and calm of the heart. This, he believes, is what the communal transition culminating in 2012 is all about.
Ami said that many people have a subtle sense of fear about going inside themselves for comfort and happiness because they are so accustomed to only looking outside of themselves for it, or are in the habit of using things in the outside world to distract themselves from their pain, boredom or fear.
Having experienced depression, homelessness and extended financial challenge in the past, Ami said that his life turned around dramatically when he realized the futility of relying "exclusively on others, fate, blame and the lottery" to deal with the fact that his life was not going well.
"What I offer is not for everybody," said Ami. "Some people are so in the middle of their fear, struggle and chaos that they figure that's just how life is. Often, one has to reach a suffering threshold point when 'enough is enough' before considering a new perspective on life."
###