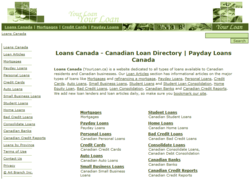 Having basic understanding of how financing and budgeting work can greatly improve the lives of many Canadians.
Toronto (PRWEB) August 14, 2012
Art Branch, Inc., the parent company of YourLoan.ca announced today the publication of a financial FAQ section (http://www.yourloan.ca/loan-articles/), intended for people who want to learn more about finance.
The new FAQ section is created by the content development team at Art Branch, Inc. and is the result of extensive research. The section contributes to the wealth of information published on YourLoan.ca, which lists over 4,000 financial companies in Canada and gives Canadians the opportunity to find more about different forms of financing. The FAQ section is thus intended to offer information on all important finance topics. Canadians can learn about different budgeting and debt management strategies as to get rid of debt and improve their financial situation. The section explains how interest works and overviews various forms of financing. Visitors learn how to compare different loans and choose the best financial product for their particular circumstances.
"Financial education is now more important than ever and yet the Canadian educational system doesn't do enough in this regard. Having basic understanding of how financing and budgeting work can greatly improve the lives of many Canadians." said Peter Todorov, President of Art Branch, Inc.
Financial education helps people to balance their budgets, save for retirement, spend on a holiday or trip, buy a house or furniture, choose the right investment instruments, and much more. Educated consumers make wise financial decisions and are able to avoid excessive debt. Financial responsibility and money management skills are essential today given that there are more debt options. Consumers can choose from a variety of financial providers – mortgage companies, credit card issuers, credit unions, banks, and insurance firms, all of which try to attract clients. Consumers are faced with tough choices and this makes financial education even more important. At the same time, the importance of financial education is overlooked by many Canadians who lack understanding of basic financial concepts. This often results in unmanageable debts, foreclosure, bankruptcy, and broken families. Learning the basics of budgeting, saving, and investing can improve the financial fortunes of many people, and the new financial FAQ is a valuable tool to this purpose.
About YourLoan.ca: YourLoan.ca is one of the oldest Canadian financial directories offering finance listings and financial guides since 2005.
About Art Branch: Art Branch Inc., located in Toronto, Ontario, is the publisher of YourLoan.ca and has produced several consumer oriented websites targeting Canadian audience. The goal of Art Branch is to provide visitors to company sites with free, useful guides, helping consumers to make educated choices.