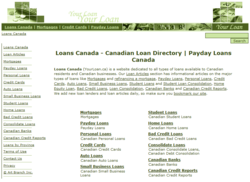 Many Canadians have borrowed large sums of money without thinking of the long-term consequences. The financial FAQ section of YourLoan.ca can help them to understand and manage their finances better
Toronto (PRWEB) December 21, 2012
Art Branch, Inc., the parent company of YourLoan.ca, announced today the publication of 40 new articles (http://www.yourloan.ca/loan-articles/), intended for people who are interested in learning more about finance.
The articles were created by the content development team at Art Branch, Inc. and published in the financial FAQ section of YourLoan.ca. The section has been popular with visitors of the website since the first articles were published. The new articles were created after extensive research and cover financial topics that visitors of YourLoan.ca are interested in.
"Many Canadians have borrowed large sums of money without thinking of the long-term consequences. The financial FAQ section of YourLoan.ca can help them to understand and manage their finances better," said John Williams, marketing consultant at Art Branch Inc.
The 40 new articles cover financial topics such as types of mortgages, credit card borrowing, business loans, budgeting, and many others. After the addition of the new articles, the FAQ section includes over 120 financial articles that explain key financial terms and concepts. Financial literacy is important in an increasingly complex financial world. There are more products and options than ever – different types of mortgages and credit cards, investment instruments, bank accounts, and IRAs. The large number of products complicates decision making even further. Moreover, the risk and responsibility for important decisions are shifted to employees and away from employers and government institutions.
Financial education is important in that it empowers consumers to make thoughtful decisions, ultimately promoting economic stability. People who borrow irresponsibly often end up declaring bankruptcy and selling their valuables to pay for groceries. The global financial crisis, recession, and economic turmoil have caused many people to feel a high level of financial anxiety. Financially educated consumers, on the other hand, are more likely to make informed decisions and to challenge financial institutions to create products that have a positive effect on financial wellbeing, economic growth, and investment levels. The financial section of YourLoan.ca covers many financial topics and helps visitors to improve their financial literacy and make responsible choices.
About YourLoan.ca: YourLoan.ca is one of the oldest Canadian financial directories offering finance listings and financial guides since 2005.
About Art Branch: Art Branch, Inc., located in Toronto, Ontario, is the publisher of YourLoan.ca and has produced several consumer oriented websites targeting Canadian and international audience. The goal of Art Branch is to provide visitors to company sites with free, useful guides, helping consumers to make educated choices.
# # #