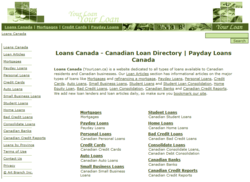 There are many viable lending alternatives apart from what the big Canadian banks offer. Canadians deserve to know about them so that they can choose a lender that suits them
Toronto (PRWEB) October 24, 2012
Art Branch Inc., the parent company of YourLoan.ca today announces the publication of new financial listings, targeted at people who are interested in learning more about finance.
Created by the content development team at Art Branch Inc. the new financial listings are published on YourLoan.ca, a website that offers information about different financial products available to Canadian borrowers. The listings showcase a diverse set of financial service companies, thus offering value to visitors.
"There are many viable lending alternatives apart from what the big Canadian banks offer. Canadians deserve to know about them so that they can choose a lender that suits them," said John Williams, marketing consultant at Art Branch Inc.
Compared to smaller players, the large banks offer fewer financial options to small businesses. The big Canadian banks use standard lending criteria while credit unions and other financial establishments rely on personal interactions with customers. Developing and maintaining a long-lasting relationship with a small bank increases the availability of financing. This results in better interest rates and a lower likelihood that collateral or cosigner is required. Relationships with borrowers are more important for small players than for large financial institutions. The big banks establish criteria and procedures to be followed by all branches. This is how they monitor the lending process and keep control over loan officers. Thus, large lenders rely more heavily on centralized decision making, financial statements, and computer models. Small banks do not face the same coordination and control problems. They rely on community ties and personal interaction. Small banks have less rigid lending criteria and offer flexible financial solutions to individual borrowers and small businesses. In many cases, their financial products are cheaper than what the "Big Five" have on offer.
YourLoan.ca adds over 500 new financial listings to give more choice to Canadian visitors. The directory includes large and small lenders and offers descriptions of their products and services.
About YourLoan.ca: YourLoan.ca is one of the oldest Canadian financial directories offering finance listings and financial guides since 2005.
About Art Branch: Art Branch Inc., located in Toronto, Ontario, is the publisher of YourLoan.ca and has produced several consumer oriented websites targeting Canadian and worldwide audience. The goal of Art Branch is to provide visitors to company sites with free, useful guides, helping consumers to make educated choices.