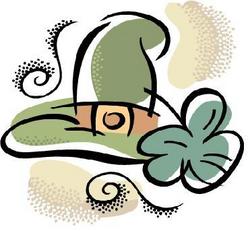 Norwalk, Conn. (PRWEB) February 27, 2008
Your Savings Club(SM), a premier entertainment and shopping savings program offered by Adaptive Marketing LLC, has some great ideas to make any St. Patrick's Day party a blast.
St. Patrick's Day, which falls on March 17, is a great excuse for a party and can help the winter-weary shake off the doldrums. Ideas for an Irish-themed party can extend as far as one's imagination and budget allow.
All that's really needed is a fun environment and plenty of good food and refreshments. Then let guests do the rest, advises AP9*YourSavingsClub.
AP9 Your Savings Club helps set the stage, a green one.
While going green has a different meaning these days, around this time of year, it's all about enjoying good food and drink with friends and family with an Irish twist, of course. Party goods stores offer a wide selection of decorations.
-- If invitations are being sent out, have a wee bit of fun by using the prefix "O" or "Mac" before guests' names.
-- Decorate with green streamers, green light bulbs or green helium balloons.
-- Scatter cardboard shamrocks and gold, foil-wrapped chocolate coins about the house.
-- Position a large rock (we suggest a fake one, to save a trip to the chiropractor) near the door with a sign directing guests to kiss the rock for the gift of blarney before entering. Blarney, or talkativeness, is just what's called for at a party!
-- Dig out that dated, but oh so green, blazer from the back of the closet. Don't forget the green slacks, the fashion faux pas that once saw time on the golf course.
-- Pick up some paper leprechaun hats for guests.
-- Put some Irish music on, whether it's traditional Irish ballads, Van Morrison, Enya or U2.
Green eggs and ham
Wondering what to serve? Your Savings Club advises:
-- If guests won't lose their appetite, get out the green food coloring to dye everything from mashed potatoes to beer.
-- Decorate food with tiny Irish flags.
-- Experienced cooks can't go wrong with traditional favorites like corned beef and cabbage. Many websites offer free recipes for this and other classics like Irish soda bread, beer cheese bread and Irish scones. Whet the palate with Irish cream liqueur or hot whiskey punch. Top it all off with Irish coffee and mint chocolate ice cream. Or bake a cake with (what else?) green icing.
-- For something simpler, use a cookie-cutter to make clover-shaped sandwiches. Put out bowls of green M&Ms, stock up on beer (green Gatorade and green Kool-Aid for the non-alcoholic crowd), and call it a day, suggests AP9 YourSavingsClub.
About Your Savings Club:
Your Savings Club is a leading membership discount program offered by Adaptive Marketing LLC. Headquartered in Norwalk, Conn., Adaptive Marketing is a category leader in membership programs, bringing value direct to consumers through an array of benefits in healthcare, discounts, security, personal property and personals. Members may access their benefits at YourSavingsClub.com. With broad online and offline distribution capabilities, Adaptive Marketing offers its corporate client partners effective tools to enhance market presence, strengthen customer affinity and generate additional value through programs such as AP9 YourSavingsClub.
###