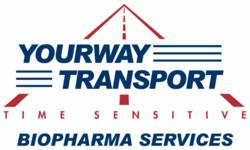 The BioPharma Services division provides critical local depot services, cold-chain support, logistics, supply chain management tools, and project management.
Allentown, PA (PRWEB) August 14, 2011
Yourway Transport, Inc. today announced the creation of its BioPharma Services division, and launch of its own network of distribution depots in 11 countries focusing specifically on the global clinical site and supply needs of its pharmaceutical and biotechnology customers. The BioPharma Services division will provide critical local depot services, cold-chain support, lab kit assembly and logistics, supply chain management tools, project management, and a proprietary single platform inventory management and reporting systems, among other critical service needs for the growing demands of the ever-changing global clinical industry. This new division will also leverage Yourway Transport's years of proven experience as a provider of premium courier services for the pharmaceutical and biotechnology industries.
"At Yourway Transport, we are extremely pleased to provide this service offering for our customers. Understanding the competitive nature of clinical programs and drug development, I am confident that our array of services and products will give our customers an advantage that will allow them to meet the demands of their trials," said Yourway Transport Owner and President Gulam Jaffer. "It is all about speed and quality in a global environment."
A key part of the BioPharma Services is its Global Depot network. Currently in the process of a rolling opening schedule, the aggressive timeline of the BioPharma Services division will see depot openings in Argentina, Brazil, Chile, Colombia, India, Mexico, Peru, Russia, Singapore, South Africa, and the Ukraine in the coming 6 months. These depots will focus on the local needs of global clinical programs, offering a state-of-the-art internet-based inventory and shipping management system, allowing full traceability and transparency to the customers of Yourway Transport.
Of special note will be the Yourway Transport Singapore distribution center, which will act as the flagship local depot for the Asia-Pacific region. The Singapore depot will be the first of the eleven centers to open this year, with a grand opening scheduled for later this month. Plans are already in the works to add China and other pivotal country centers to the first eleven depots, with a scheduled opening in the first quarter of 2012.
The distribution depot network will be complemented by a global project management team, which will support the global reach of Yourway Transport's full portfolio of services.
###