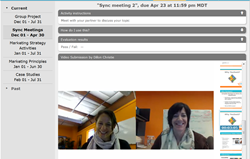 Our release of online meetings to facilitate student assignments and interaction is poised to add significant value to any class.
Loveland, CO (PRWEB) April 06, 2015
YouSeeU, an educational technology company, will introduce its latest revolutionary features that include synchronous capabilities, when YouSeeU 3.0 is launched April 22, 2015 at the OLC 8th Annual Emerging Technologies Symposium in Dallas, Texas. The enhanced platform will also be on display at Cite 2015, Pearson's annual online learning conference, Orlando, Florida.
Visit the YouSeeU booth at these premier elearning events and learn how leading educators bring challenging courses to life through video-based assignment workflows. Stand-alone, or integrated with an LMS, YouSeeU activities facilitate critical skills development at renowned Higher Education institutions around the country within disciplines across the curriculum such as world languages, business, nursing, education and more.
"We're thankful for innovative educators who have challenged us to develop more solutions to problems in higher education," said Dr. Jeff Lewis, Educator and YouSeeU founder and Chief Learning Officer. "Our release of online meetings to facilitate student assignments and interaction is poised to add significant value to any class. Role-plays, community interviews, and live online presentations are a few examples of authentic assessments that help prepare students for success after graduation."
YouSeeU's unique approach brings new dimension to the online learning process, providing an opportunity for students to experience social connectedness and course community through real-world assignments and peer review, while receiving personalized instruction from their educators.
YouSeeU version 3.0 provides educators the means to create truly dynamic online courses which support in-depth study, and higher levels of commitment and accountability from students. "We are excited to share YouSeeU 3.0 with the educational community," said Jay Dokter, YouSeeU CEO. "Our team has enhanced our platform to address the growing needs of the online learning community and allows educators to create objective-driven assignments not available through other tools."
"We are pleased to continue and expand our relationship with Pearson, an important partner in our work to improve online learning," Dokter added. "Pearson works strategically to be a full-service provider, and our technologies and approaches are complementary. We are glad to assist them in rounding out the solutions they are able to offer and are especially excited to be a Cite 2015 sponsor again this year."
Cite 2015 is a forum for sharing innovative models and best practices for improving learner engagement and retention in higher education and professional training. "We're delighted to be a part of YouSeeU's introduction of 3.0 to the marketplace and more pleased that through our partnership, these synchronous features will be available to Pearson customers," commented Erica Tuohy, Pearson's Director of Partner Solutions Marketing.
Meet YouSeeU 3.0 and experience the YouSeeU difference at the following conferences and trade shows this spring:
April 22–24, 2015 - OLC Emerging Technologies Symposium, Dallas, TX
April 28–30, 2015 - Cite 2015, Orlando, Florida
May 20–22, 2015 - ABC Western Regional Conference, Los Angeles, CA
To learn more about how YouSeeU can enhance the student and instructor experience within traditional, blended or online courses, visit the website, http://www.youseeu.com.
To register for Cite 2015, please visit: http://www.pearsonhighered.com/cite/registration.html
About YouSeeU
YouSeeU is an educational technology company, providing synchronous and asynchronous environments that enrich the online learning experience through student and instructor-generated video. Enabling deeper connections between participants, YouSeeU broadens student engagement, improves outcomes and increases retention. A rapidly growing number of higher education institutions around the world are using YouSeeU to enhance teaching and learning through high-engagement activities such as oral communication assessment, spontaneous response Q&A, presentations, and student demonstrations of key skills. To learn more, visit http://www.youseeu.com, or find YouSeeU on Twitter and Facebook.