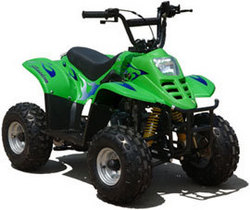 Motivating Youngsters with opportunity is the key that unlocks their futures and open up their horizons.
Madison, WI (PRWEB) March 18, 2011
Spring is right around the corner and soon things will be heating up, which means it's the perfect time to get back outside and enjoy the great outdoors, fire up the ATVs, four wheelers, quads, dirt bikes, go karts or whatever your power sports choice may be and hit the trails running. This year why not get the whole family involved and get everyone out there riding and having a good time with a new cheap priced ATV from Q9 PowerSports.
Up until now cost has stopped most families from being able to afford to have everyone in the family own their own ATVs, but this is now a thing of the past. Companies have figured out a ways to bring all the same great fun but at half of the price. Now junior can get his or her own ATV and ride with the rest of the family for as little as $599. That's right a real gas powered off-road youth ATV for $599, but that's not it, it also comes with free shipping anywhere in the USA and a free $80 kids ATV helmet; as if that's not good enough it also comes with a 6-month parts warranty.
Just imagine: planning out a child's birthday party and inviting lots of friends and relatives. The party has games, prizes, a huge birthday cake or even a huge inflatable bounce house and it looks like the best birthday party of the year, but wait, here comes junior's surprise birthday present, a brand new youth ATV. The whole birthday party will be shocked and amazed and it will look like a fortune was spent, but that can be a little secret. Just sit back and enjoy the complements and praises from friends and family for having thrown a wonderful party.
OK, now on the other hand lets play devils advocate and say not every child is the birthday party type of kid, keep this in mind, it's not easy to get the kids outside anymore with Nintendo, x box, Play Station, the Internet and just plain television in general, these awesome inventions make it difficult for any youngster or adult to even want to leave the house, but years ago before Facebook or Twitter, outside was the place to be and everyone who was anyone could be found outside taking advantage of a beautiful clear blue day. The motivation? Simple, you could meet new people and have fun doing anything. What better motivation is there then something that is specifically meant to be operated outdoors, like a kids ATV? Kids need a passion and a drive other then the ones that keep them on the couch. Getting out and just being outside cant be a thing of the past. Just something Americans should start thinking about.
###