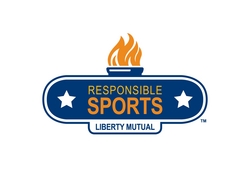 It's important that we emphasize and celebrate the positive aspects of youth sports and encourage communities to focus on the valuable teaching opportunities that sports present.
Boston, MA (PRWEB) August 12, 2008
As our nation turns its attention to the 2008 Summer Olympic games in Beijing, many of the more than 35 million U.S. children who play youth sports will tune in to see who will become America's newest athletic heroes, while at the same time dreaming of someday achieving similar feats of glory.
While playing at this elite level is extremely rare - one in 50,000 high school athletes will join a professional team, according to Northeastern University's Center for the Study of Sports in Society - team sports can positively impact children regardless of playing ability.
Because children benefit most when coaches, parents and communities work together, the Liberty Mutual Responsible Sports program - formed in partnership with the Positive Coaching Alliance (PCA), US Youth Soccer, USA Football and the Amateur Softball Association (ASA) - is providing parents and coaches with sports parenting and youth coaching resources to help children reap the full benefits of youth sports.
The Liberty Mutual Responsible Sports Program also celebrates youth sports coaching through its Liberty Mutual Responsible Coaching Awards that recognize youth sports coaches across the country that have created a safe, rewarding and positive sports environments for children.
''In our win-at-all costs culture, it's easy to lose sight of the role sports can play in your child's life,'' says Jim Thompson, Liberty Mutual Responsible Sports spokesman, and founder and executive director of the Positive Coaching Alliance. "It's important that we emphasize and celebrate the positive aspects of youth sports and encourage communities to focus on the valuable teaching opportunities that sports present."
"Every day in communities across the country, coaches impart valuable life lessons about leadership, cooperation, and integrity," said Greg Gordon, Liberty Mutual senior vice president, Consumer Marketing. "Liberty Mutual honors responsible coaching because it is a clear example of the positive influence a person's actions have on young people, their families and communities."
The Critical Role of Parents in Youth Sports
Research shows that when parents and teachers work together, a child tends to do better in school. The same can be said for coaches and parents in organized youth sports.
''I've been coaching for more than 27 years and have seen the tremendous influence parents can have on their child's experience,'' says Mike Candrea, head coach of the USA Women's National Softball team that will compete in Beijing, and winner of eight NCAA national championships as head coach of the University of Arizona. ''When a coach and parent have a mutual understanding about goals and expectations the player does well on and off the field.''
Below are five tips from ResponsibleSports.com - also highlighted in the embedded video - to help parents prepare as their child begins any team sport. (To post this video on your blog or website, please use the embed code found at the following link http://www.youtube.com/watch?v=-q96VVWpY_0)

Emphasize attributes other than winning. Children can take games very seriously, but quickly forget their disappointments and move on, showing that winning and losing isn't everything.
Establish an early positive relationship with the coach. It will be much easier to communicate later should a problem arise.
Fill the coach's emotional tank. Just about every coach does a lot of things well. Take the time to look for those things, and when you see something you like, let him or her know about it.
Don't put the player in the middle. It's much easier for a child to put his or her best effort forward if parents show support for the coach. If you have a concern, take it up with the coach privately.
Don't give instructions during a game or practice. It can be extremely confusing to your child and distracting to other parents and fans to hear someone other than the coach yelling out instructions.
Additional tips can be found at http://www.responsiblesports.com. The site also provides expert advice on sports safety, setting goals with your child, tips for communicating with your young athlete and coach, and more, all in the context of practical examples. Parents and coaches can also complete coursework that offers best practices for handling challenging sports scenarios.
Liberty Mutual Responsible Coaching Awards and Responsible Sports Grants
Parents, administrators, and fellow coaches may nominate a local coach for a Liberty Mutual Responsible Coaching Award through August 31. Winners - one from each state, and selected by a committee including PCA, ASA, US Youth Soccer and USA Football, will receive a $250 award from Liberty Mutual to help fund his or her team. While on the site, take the Responsible Sport Parenting course. When completed on behalf of a child's youth sports organization, they'll have the chance to receive a $2,500 grant from Liberty Mutual.
About Liberty Mutual Group
''Helping people live safer, more secure lives'' since 1912, Boston-based Liberty Mutual Group is a diversified global insurer and sixth-largest property and casualty insurer in the U.S. based on 2007 direct written premium. Liberty Mutual Group ranks 94th on the Fortune 500 list of largest U.S. corporations, based on 2007 revenue. The company has over 41,000 employees located in more than 900 offices throughout the world.
The eighth-largest auto and home insurer in the U.S., Liberty Mutual (http://www.libertymutual.com) sells full lines of coverage for automobile, homeowners, valuable possessions, personal liability, and individual life insurance. The company is an industry leader in affinity partnerships, offering car and home insurance to employees and members of more than 10,000 companies, credit unions, professional associations and alumni groups.
###