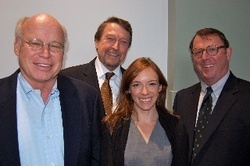 using entrepreneurial skills to craft innovative processes, approaches, and solutions to help resolve social issues.
St. Louis, Missouri (PRWEB) September 23, 2009
The YouthBridge Community Foundation and Washington University's Skandalaris Center for Entrepreneurial Studies kicked off the annual YouthBridge Social Entrepreneurship and Innovation Competition (SEIC) and Olin Cup on September 17, 2009 at Washington University, two parallel entrepreneurial competitions with the YouthBridge SEIC focused on social ventures and the Olin Cup focused commercial ventures.
YouthBridge has partnered with Washington University's Skandalaris Center for the SEIC since its inception in 2005, and has recently pledged another $450,000 over the next three years. The newly named "YouthBridge SEIC" is unique in St. Louis and is the largest competition of its kind in the United States.
Over the past five years, the [YouthBridge SEIC has made 23 awards totaling $480,000. The competition defines social entrepreneurship as "using entrepreneurial skills to craft innovative processes, approaches, and solutions to help resolve social issues." Last year's 43 entrants included a diverse range of ventures with missions to provide educational, cultural and vocational training. Additional sponsors include the Incarnate Word Foundation, the Lutheran Foundation of St. Louis, and the Daughters of Charity Foundation of St. Louis.
The Olin Cup was inaugurated upon the establishment of the Olin Business School in 1985, and since 2003, has made 14 awards totaling $460,000. Last year the competition included 38 entrants. Additional sponsors include the Skandalaris Family, the Olin Business School, St. Louis Commerce Magazine/RCGA, and Polsinelli Shughart PC.
Who better to kick off these entrepreneurial competitions than Jessica Jackley, co-founder of Kiva, the first online person-to-person micro-lending program, which has generated nearly $100 million to alleviate poverty around the globe. "Kiva enables people to make loans of as little as $25 directly to small businesses in the developing world and then maintain one-to-one contact online with the entrepreneurs who receive the loans" according to Jackley.
Jackley's interest in helping entrepreneurs in developing countries was inspired during travels and study abroad when she was a junior at Bucknell University. Since launching Kiva in 2005, she has spoken widely on microfinance and social entrepreneurship. She has an MBA from the Stanford Graduate School of Business with certificates in Global Management and Public Management.
The 2010 YouthBridge SEIC competition is open to all of the St. Louis community and is accepting applications now. For information about the entry process, go to: http://www.sc.wustl.edu/SEIC/enter.html
The Olin Cup competition sponsored by the Skandalaris Center and the Olin Business School is open to teams with at least one WUSTL student, alumnus, or faculty. Entry information is available at: http://www.sc.wustl.edu/OlinCup/enter.html
About YouthBridge Community Foundation
YouthBridge Community Foundation, founded in 1877, services are two pronged - to help children's agencies implement business practices to build productive capital and achieve sustainability and to help donors, or philanthropic investors, find stable charitable organizations in which to invest. Our strategy of building equity capital and promoting social enterprise is designed to attain our mission of building a network of strong, effective and sustainable social agencies to support disadvantaged children. Information about YouthBridge can be found at http://www.youthbridge.org.
About the Skandalaris Center
The Skandalaris Center is located on Washington University in St. Louis' Danforth Campus. It stimulates a campus-wide environment of collaboration, innovation, and entrepreneurial creativity. This expands learning, understanding and economic opportunities for students, faculty and the St. Louis community. Information about the Skandalaris Center may be found at http://www.sc.wustl.edu.
###