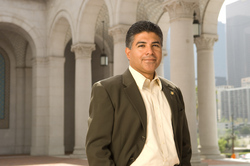 I urge Congress to pass the Youth Promise Act to help strengthen gang prevention before the economy gives these kids more of a reason to choose violence.
Los Angeles, CA (PRWEB) May 26, 2010
Today, Councilman Tony Cardenas will join Congressman Bobby Scott in Washington D.C. to launch Cardenas' self-produced star-studded viral video and rally Congress to pass the Youth Promise Act (YPA), a vital bill that increases and strengthens gang intervention/prevention programs. The viral video, featuring celebrities such as Robin Wright, Star Jones, Russell Simmons, Jim Brown, Baron Davis, Rob Dyrdek, Mayor Cory Booker and many others, will be shown to Congress members in the Capitol Visitors Center's South Orientation Theatre (2141 Rayburn House Office Building) at 6pm (EST). Actress Robin Wright, Jim Brown, football star Troy Vincent and other celebrities will be in attendance. In addition, Cardenas has been asked to address Congress about the bill and is hoping to bring additional resources to Los Angeles to help reduce youth violence. He will be joined by youth, families, and gang interventionists from Los Angeles and the East Coast.
Last year, the Los Angeles City Council unanimously passed a resolution authored by Cardenas to support Congressman Scott's YPA, making LA the first city to endorse. Since then, Cardenas has gathered the support of celebrities and public figures willing to lend their voices to the cause. Cardenas and his staff filmed a powerful and compelling viral video that features celebrities who "know the power of second chances firsthand." Cardenas, who has been producing his own video news packages from his office, is putting stock in viral and social media efforts to help mobilize motivated audiences. The public can view the video on YouTube at http://www.youtube.com/laonlinemedia or on http://www.youthpromiseaction.org where viewers can sign a petition to support the bill. Cardenas is hoping the video will garner over 100,000 signatures in support of the YPA.
Scott and Cardenas say that with the economic crisis, children in already poverty-stricken areas may become more vulnerable to gangs, underscoring the importance of strengthening gang intervention/prevention and after-school programs.
"Now more than ever, policy-makers should be increasing funding for community-based gang intervention/prevention programs," said Cardenas. "While we are finding solutions to this economic crisis, we cannot forget about our children who are most vulnerable to crime. Mothers and fathers are leaving their children at home to work more hours and more jobs just to make ends meet. I urge Congress to pass the Youth PROMISE Act to help strengthen gang prevention and intervention before the economy gives these kids more of a reason to choose violence."
"The Youth PROMISE Act could be a critical component in reducing crime in Los Angeles and across the United States," said Congressman Scott. "For years, we have been codifying slogans and soundbites
that do nothing to reduce crime. As a result, the average incarceration rate in the U.S. is far above the incarceration rates in other countries and incarceration costs have risen to $65 billion per year."
"While we have seen a decrease in juvenile prisoners over the last three years, the economic crisis leaves many children and teens more vulnerable to gangs," said LA County Sheriff Lee Baca. "Now more than ever, we need to make sure our gang prevention and intervention programs are strong and present. Law enforcement can't do it alone. The Youth PROMISE Act will instill a balance of suppression, intervention, and prevention."
Congressman Scott explained that his legislation builds upon evidence-based practices proven to reduce juvenile violence and delinquency rather than creating additional and duplicative punitive approaches. The Youth PROMISE Act directs resources towards communities facing an increased risk of crime and gang activity in order to enable those neighborhoods to begin to address unmet needs. Communities facing the greatest gang challenges will unite under a local council that includes law enforcement, community-based organizations, schools, faith organizations, health, social services and mental health providers to develop a comprehensive plan to help at-risk children.
Proponents of the legislation say there will be a cost-savings to society by investing in prevention and intervention rather than more costly prosecution and incarceration. In Scott's original YPA bill, it was projected that the bill would generate $2.9 billion for prevention and intervention programs. California spends over $10 billion in incarceration costs, exceeding the $7.1 billion that the state spends on the entire UC college system and the Cal State University system combined. The state also spends roughly $46,000 a year for one adult in prison and $252,000 a year to incarcerate one youth. It only costs $1200 - $1300 a year to keep that same youth or adult in an intervention or prevention program.
# # #