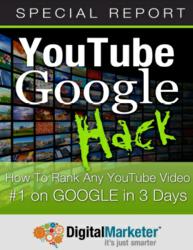 Google owns YouTube, which naturally leads it to reveal videos from the site high in Google search rankings.
Austin, TX (PRWEB) October 10, 2012
Get YouTube views for personally created videos, and the end effects can be worth much more than the resources put into it, according to a recent DigitalMarketer.com article. When videos are created with a strong consideration for their main purpose, instead of a funny animal antic or irrelevant opinion, their advantages speak for themselves.
The article said Digital Marketer is launching its revolutionary Special Report "YouTube Google Hack: How to Rank Any YouTube Video Number One on Google in Three Days," and with it marketers are learning how to create and publish effective YouTube videos for personal branding, online business improvement, and web traffic generation.
Based on the article, the beautiful part of the "YouTube Google Hack" process is that, despite its catchy name, it is a perfectly legal and respectable way to leverage the two web giants into an online marketing strategy. Google owns YouTube, which naturally leads it to reveal videos from the site high in Google search rankings. Basically, the article said it helps a video get more YouTube hits free.
With a few simple tricks, YouTube videos will rank higher than established 10 year old webpages in a matter of a few days, the article said.
An article from DigitalTrends.com recently discussed how because of YouTube's revamp late last year, the trend is moving away from casual viral videos and towards more serious, informative, and entertaining content.
"YouTube is one of the constants of the Internet: While the digital landscape hasn't stopped changing, the site has managed to stay relatively true to its origins – but that's a problem now that Google wants to turn it into a more professional platform," said the article.
The article said that's all the more reason to ensure your videos are optimized to the tenth degree, and are priming the pump of web traffic, brand recognition, and sales lead generation. Marketers know how important these aspects of a particular business are, and will be surprised at how succinctly YouTube can take care of each of them, said the online article.
The "YouTube Google Hack" Special Report shows video producers and uploaders how to title, describe, and tag their content so Google searchers (as well as their keyword-scooping algorithms) can easily find and watch it. Amazingly, the article said there isn't even a camera needed for many of the creation techniques the Special Report suggests. Simple and effective methods for making a successful YouTube video can be applied by people with little to no production experience, the article pointed out.
Digital Marketer releases informational and educational materials to help businesses and entrepreneurs gain insight and information on the trends, data, and strategies that can take them to the top of their industry. Through their RAW Training courses, strategic plans, blogs, newsletters, site reviews, and Special Reports, Digital Marketer supercharges every single marketing campaign it touches. For more information, visit DigitalMarketer.com.
Digital Marketer knows what kind of strategies make the biggest difference to the bottom line, and the article said this Special Report is full of information that will optimize videos for the best end results. More often than not, those results involve a measureable increase of the most important business indicators. When businesses want to get YouTube views, the article said following the formula of the "Google YouTube Hack" will give them all the power they need.