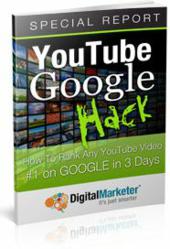 The YouTube Google Hack report shares guidance on the creation of several different video types, none of which require sophisticated skills or advanced equipment.
Austin, TX (PRWEB) February 08, 2013
A YouTube partnership means teaming up with the most powerful source of video content there is, said a recent Digital Marketer article. If an online business has a YouTube video in the top spot of an organic Google search, the article said the value is obvious. Digital Marketer's new Special Report, the YouTube Google Hack, will show how to rank any YouTube video number one in Google in just three days, and it's available now for instant digital download.
Digital Marketer has researched the impact of online content since its inception, and one thing it has found to be true is that this is an age of an online video revolution. The majority of web browsing circulates around video, and the article said YouTube is home to the largest collection of uploaded material, perfect for searching out exactly what someone is looking for.
Digital Marketer said that for YouTube to work correctly, valuable and meaningful content needs to be described and tagged in specific ways, so the right information gets to the right people. This is the basis for the YouTube Google Hack report, which details the creation, development, and promotion needed to make popular YouTube videos.
Thanks to Digital Marketer's constantly updated analysis and testing, the YouTube Google Hack is the preeminent guide to online video marketing, according to the article. The key is to come across as professional and informative, giving video viewers the opportunity to learn more about a company or personality. That way, when they are ready to sign up for or buy something, the article said they will have built a connection with the brand, and turn to it for more help.
The YouTube Google Hack report shares guidance on the creation of several different video types, none of which require sophisticated skills or advanced equipment. It will show how to optimize the videos for higher listings inside more Google search strings, and how to promote product listings, affiliate services, or subscriptions without coming across as pushy or annoying.
Digital products convert amazingly with a little YouTube video help, and the article pointed out that profit margins can skyrocket because there's no overhead and no commissions.
The article said the information in the YouTube Google Hack report could equal stacks of books, loads of online courses, and years of experience working with digital marketing. Instead of wasting time, the report shares nothing but the raw information and guidance needed to get YouTube views and see a rise in internet presence.
Working with YouTube videos doesn't need to be viewed as intimidating or worthless, as long as businesses follow the right procedures and best practices, said the article. Digital Marketer is sharing the secrets to a strong YouTube partnership in their Special Report, and will prove how easy it can be to rank high in Google searches with a few tips and tricks.
Digital Marketer releases informational and educational materials to help businesses and entrepreneurs gain insight and information on the trends, data, and strategies that can take them to the top of their industry. Through their RAW Training courses, strategic plans, blogs, newsletters, site reviews, and Special Reports, Digital Marketer supercharges every single marketing campaign it touches. For more information, visit DigitalMarketer.com.