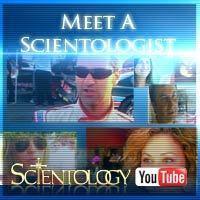 Los Angeles, CA (PRWEB) September 2, 2009
The Church of Scientology International has expanded the "Meet a Scientologist" testimonial video series on its YouTube Channel with 10 new documentary videos featuring Scientologists from a wide range of locations and walks of life. The "Meet a Scientologist" series includes educators, teenagers, skydivers, a golf instructor, hip-hop dancer, IT manager, stunt pilot, mothers, fathers, dentists, photographers, actors, musicians, fashion designers, engineers, students, business owners, and more.
In continuing with the Church of Scientology's program to expand its presence in the world's largest online video community, the first 50 "Meet a Scientologist" videos went live online on the official Church of Scientology YouTube Channel on August 18.
Specially designed for the Internet, the series is based on a core Scientology principle discovered by Scientology Founder L. Ron Hubbard, that understanding is composed of affinity, reality and communication. Applying these elements - commonly referred to as A-R-C - to increase understanding of Scientologists and Scientology, the online "Meet a Scientologist" documentary videos give Church members the opportunity to tell about their lives in personal terms--who they are, what they do, what is important about their life, and how Scientology helps them achieve their goals. To watch the new videos, visit the Scientology Video Channel on YouTube.
A pioneer and leader in the online religious community, the Church of Scientology was the first religion to create its own YouTube Video Channel, drawing some 2.2 million viewers since launching in April 2008. The Channel is comprised of broadcast-quality video content in a unique video player. The Church is also conducting a cross-platform campaign on spiritual values that includes Internet specialty and video ads airing on MTV, Discovery, ESPN2, The Learning Channel, CNBC, MSNBC, CNN, Fox News, Fox Sports and others.
###