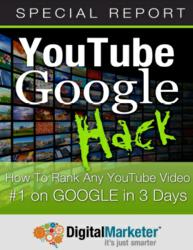 The advice and strategies in the YouTube Google Hack will give an almost instantaneous rise in Google ranking.
Austin, TX (PRWEB) January 31, 2013
YouTube views are one of the most powerful online achievements for any company looking to boost their online recognition, according to the newest article from Digital Marketer. They have found the best ways to partner with the video sharing conglomerate to drive traffic, sales, and conversions. The information is being shared in their information in the Special Report YouTube Google Hack: How to Rank Any YouTube Video Number One on Google in Three Days.
The YouTube Google Hack condenses years of experience and hundreds of hours of research and analysis into one quick 13-page read. It's the down and dirty information that businesses and entrepreneurs can use to quickly create engaging YouTube videos, with the sole purpose of guiding web browsers to their content, products, or opt-in pages.
The article said that creating popular YouTube videos takes almost no prior knowledge of production or uploading. The massive video sharing site became so because of its ease of use and its ability to connect with its search engine owner, Google. Since so many Google searchers seek out video, the article said having content on the other ends of those searches will help any company gain an online presence easier than virtually any other process.
YouTube itself is the second largest search engine online, said the article, creating two times the effect when videos are optimized with keywords and tags that Google can capture. These features help online viewers find the specific content they are looking for, and the YouTube Google Hack report guides people through the entire procedure.
From beginning to end, Digital Marketer's report will show how to plan, create, produce, and submit a YouTube video that will boost an online presence. It will also give potential customers or subscribers a venue to find answers to their questions in a comfortable and familiar online destination, according to the article.
The advice and strategies in the YouTube Google Hack will give an almost instantaneous rise in Google ranking. A front page Google rank is a clear benefit, and YouTube video creation has been found to be one of the best ways to accomplish it.
Digital Marketer releases informational and educational materials to help businesses and entrepreneurs gain insight and information on the trends, data, and strategies that can take them to the top of their industry. Through their RAW Training courses, strategic plans, blogs, newsletters, site reviews, and Special Reports, Digital Marketer supercharges every single marketing campaign it touches. For more information, visit DigitalMarketer.com.
Digital Marketer wants businesses and entrepreneurs to understand the power of YouTube and Google, and the how they can harness that power to their advantage. It's one of the best ways to get targeted traffic with minimal effort, said the online article. The Special Report from Digital Marketer will generate YouTube views, which in turn can help generate a better online presence.