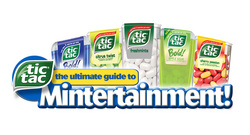 A Tic Tac® Moment reflects the feeling consumers get from enjoying Tic Tac® mints - like joy and in the case of MTV celebrities - kissable refreshment
Hollywood, CA (PRWEB) June 6, 2008
It seems the Tic Tac® Brand is an unofficial staple on Hollywood movie sets, according to some celebrity insiders. Before getting up close and personal with their co-stars, several celebrities attending the 2008 MTV Movie Awards said they freshen up with a Tic Tac® mint. You can hear their best-kept, making movie magic tips online at http://www.Mintertainment.com where consumers are uploading their favorite 'moments' in the Tic Tac® Moments video contest. If you'd like a chance to win the $10,000 Grand Prize, you have until June 14th to submit your entry.
So what's the buzz about? A $10,000 Grand Prize is on offer for America's best 'moment.' To enter, simply upload a video, up to 30 seconds in length, to the Mintertainment website by June 14th and be sure to follow the rules. "A Tic Tac® Moment reflects the feeling consumers get from enjoying Tic Tac® mints - like joy and in the case of MTV celebrities - kissable refreshment," said William Colvard, of Veux Marketing, which created and is implementing the contest.
While not competing in the video contest, Celebrities shared their best moments which Colvard hopes will inspire consumers. Celebrities, who each received a gift pack of Tic Tac® mints included: John Salley (NBA Champion, 'The Best Damn Sports Show Period'), Danny Noriega ('American Idol'), Beverly Mitchell ('7th Heaven'), Mia Michaels and Brian Friedman ('So You Think You Think You Can Dance'), Omarosa ('The Apprentice'), Jodie Sweetin ('Full House'), Adrian R'Mante ('The Suite Life of Zack and Cody'), Carmit Bachar ('The Pussycat Dolls'), The Miz ('WWE' and 'The Real World'), Shar Jackson ('Moesha'), Marisa Petroro and Leyla Razzari ('Deal or No Deal'), Mayhem ('American Gladiator'), Nick Verreros ('Project Runway'), Josh Henderson ('Desperate Housewives'), Anna Maria Perez ('Hannah Montana'), Robin Coleman ('American Gladiator'), Michael Copon ('One Tree Hill', 'Power Rangers', 'The Scorpion King'), Kim Coles ('Living Single', 'Celebrity Fit Club'), Jonathan Lipnicki ('Jerry Maguire', 'Stuart Little'), and Stephen Richmond ('Everybody Hates Chris').
Colvard said that entries will be judged by public online voting from June 19th through July 3rd and several semi-finalists will be selected. A panel of judges will then select the $10,000 Grand Prize winner and contest finalists. Additional prizes include a $1,500 Best Buy® gift card, a year's supply of movie passes, and a year's supply of Tic Tac® Mints. Contest details, along with competing videos, can be found at http://www.Mintertainment.com. Get your mint on and enter today!
###