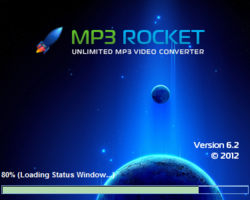 Download over 4 million Creative Commons songs & videos - with owner's permission.
San Francisco, CA (PRWEB) February 09, 2013
MP3 Rocket's New Creative Commons Search
In MP3 Rocket's new 6.3.2 version, developers have added a check box filter that allows users to easily search for free and redistributable Creative Commons ("CC") videos.
The CC search filter works by users checking the "filter for Creative Commons" check box next to music and video searches. Once the CC filter is checked searches will return only Creative Commons content.
What is Creative Commons?
Creative Commons is a nonprofit organization that enables the sharing and use of creativity and knowledge through online tools.
Its easy-to-use copyright licenses provide a simple, standardized way to give the public permission to share, reuse, redistribute, and use any creative work.
Creative Commons is a great solution for users looking for content that can be freely and legally redistributed; there is a giant pool of CC-licensed creativity available. There are hundreds of millions of works — from songs and videos to scientific and academic material — available to the public for free and legal use under the terms of CC copyright licenses, with more being contributed every day.
How Many Creative Commons videos are on YouTube? - http://creativecommons.org/weblog/entry/33421
In July of 2012, Creative Commons reached an exciting milestone. As of July 2012, YouTube surpassed the 4 million Creative Commons licensed videos uploaded mark. That's over forty years' worth of YouTube videos, footage to remix and reuse, all licensed under "CC BY License", the most permissive CC license.
Creative Commons – "CC BY License" - http://creativecommons.org/licenses/by/3.0/
Under the "CC BY" License users are free to:
1. To Share — to copy, distribute and transmit the work
2. To Remix — to adapt the work
3. To make commercial use of the work
This license lets others distribute, remix, tweak, and build upon a copyright holders work, even commercially, as long as they credit the original creator. The "CC BY License" is the most accommodating of CC licenses offered. Recommended for maximum dissemination and use of licensed materials.
To test out MP3 Rocket's new Creative Commons search please download a free copy of the software at: http://www.mp3rocket.me/
Resources:
For more information on CC licenses please see: http://creativecommons.org/licenses/
http://creativecommons.org/weblog/entry/33421