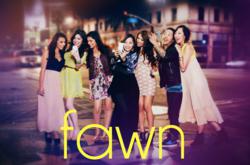 Santa Monica, CA (PRWEB) April 04, 2012
Today Michelle Phan announced details for FAWN (For All Women Network), a hip, cool and forward-thinking young women's media company that specializes in developing interactive and engaging content for innovative audiences. As part of YouTube's original programming initiative, FAWN will produce an original slate of shows that feature YouTube's most influential beauty and style experts with over 4,000,000 subscribers and 1 billion video views.
"I am so excited to be partnering with YouTube to launch first-of-its-kind programming," said FAWN founder Michelle Phan. "We strive to be the go to source for young women seeking inspiration, empowerment, and information around beauty, lifestyle and fashion."
FAWN's proven talent will star in different episodes across all of the company's series. The company's launch slate includes:
Wanderlust, a travel series where FAWN travels the world to discover local beauty and fashion trends. Initial episodes were filmed in Italy and Hong Kong and the next destination is New Zealand.
Yeah That Look is FAWN's celebrity makeover show that features interviews and celebrity transformations with celebrities and makeup artists/stylists to the stars. The series is currently in production and features episodes with international style icon Dita Von Teese; supermodel and activist Coco Rocha; Warner Bros. Records artist Birdy; and star of ABC Family's Jane By Design Erica Dasher.
Close Up and Personal is FAWN's intimate roundtable discussion series where five guests come together over tea and sandwiches to discuss beauty, fashion and relationships. The series is a casual and fun approach to producing a talk show with the first episodes to feature guest appearances by Armani Beauty creative director Tim Quinn and Paul Mitchell editorial director Luci Doughty.
Other shows slated to premiere on FAWN include Storybook, a series of modern day fairytales, and The Cinderella Project, a series where young women are given the royal treatment during pivotal moments in their lives.
FAWN executive producers are Michelle Phan, Richard Frias, Josh Oliver, and Marc Schrobilgen.
The FAWN April 11th launch party will celebrate the unveiling of the channel as well as founder Michelle Phan's 25th birthday, with the event's red carpet streamed live on FAWN's YouTube channel (http://youtube.com/fawn). The event will also feature DJs, a Lancôme Paris beauty bar, Couture Colour photo booth, Gelish nail bar, gift cards provided by JustFab.com and a dance floor powered by Ubisoft's "Just Dance 3".
ABOUT FAWN
FAWN is a young women's media and technology company founded in 2011 by Michelle Phan and Richard Frias. The company focuses on producing original programming and developing new technologies for the distribution and consumption of fashion and beauty media online. The company is based in Santa Monica, CA.
ABOUT MICHELLE PHAN
Michelle Phan's (pronounced 'fawn') beauty and fashion channel on YouTube boasts 1.9 million subscribers and 555 million+ video views. She is a spokesperson for Lancôme Paris, and the founder of FAWN and MyGlam.com. Phan made her directorial debut in 2011, directing and starring in two short films.
http://michellephan.com
For more information contact:
Ronit Cohn
ronit(at)fawn(dot)tv
566-6679
###