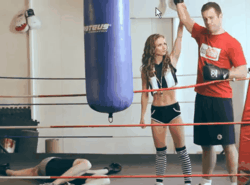 "... web video (YouTube) is the lowest hanging fruit for any business to market online with"
Melbourne, Australia (PRWEB) June 22, 2012
"Web TV will overtake traditional TV by 2016, or sooner." Well, that's the opinion of web and YouTube expert, David Jenyns of Melbourne Video Productions, who then continues, "our latest video release, YouTube vs. Old Man TV, perfectly demonstrates the reasons why I can make that statement."
It wasn't that long ago when television stations were in complete control of prime time advertising, but since the onset of the global recession, combined with the advancements of internet technology, they've lost grip of their coveted position.
"In the current economic downturn, research clearly shows businesses tightening their marketing purses to actively seek out the cheaper, more effective way to advertise," notes Jenyns, "and that's with web video."
In 2005, when YouTube first launched, Jenyns immediately realized web video would play an important role in the future of online advertising. He then lead his team at Melbourne SEO Services into unknown territory: web video marketing. Their results were so successful, Jenyns ended up creating Melbourne Video Productions, his company specializing in web video and YouTube marketing.
"Ask any of my clients, or attendees of my seminars and workshops," smiles Jenyns, "I've been saying, for years, that web video is the lowest hanging fruit for any business to market online with!"
As internet connectivity has improved, YouTube has flourished. The online video website is now bulging with everything from full-length motion pictures to entire sitcom series. Currently YouTube accumulates a staggering 35 hours of content per minute and gets 2 billion views per day. It's a small wonder why big businesses want to advertise on, or via, YouTube instead of with traditional TV.
"What bothers me is that most small to medium businesses are completely unaware they can now compete on the same level as a multi-national company," comments Jenyns, "so we specifically set out to produce a video that would convey, in a humorous way, that it's time to get your business on YouTube."
Jenyns continues, "What's more, this can be done at an extremely low cost, so businesses can produce and upload their own YouTube marketing videos and see instant results."
Businesses not using web video marketing are now being forewarned by Jenyns, "You will fall behind if you don't start using web video marketing to promote your business, if you take a minute and watch the video, and you'll understand why."
The comedy skit YouTube Vs. Old Man TV was released on 20, June 2012, watch it on YouTube: http://www.youtube.com/watch?v=QTRiDYnoMZE
About Melbourne Video Production
MelbourneVideoProduction.com.au is a division of melbourneSEOservices.com, a full service search engine optimization (SEO) consultancy, based in Australia, but with a worldwide client base.
Melbourne Video Production has the unique ability to combine their web video expertise with strategic SEO practices from Melbourne SEO making an unbeatable combo of video SEO.
Director, David Jenyns, has, over several years, built a team of experts who are niche experts to support the business, and who share his ethos for ethical, professional internet marketing and web video.
More about David Jenyns at http://www.davidjenyns.com