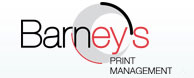 Our ads are exposed to the same audiences as the bigger corporations, but with the added advantage of lower costs
Melbourne, Australia (PRWEB) August 14, 2012
In today's world, being accessible on the internet is vital for a business's success, and what's becoming a greater importance is relaying information in the easiest format for audiences to consume: web video. The onset of online video marketing, and its success rate, has afforded small businesses the opportunity to launch their own advertising campaigns, at a fraction of the traditional television commercial cost.
Last month, Barney's Print Management in Australia launched their first YouTube marketing campaign to show audiences the scope of works they offer. "The low cost of web video marketing has allowed us to bring out a series of these videos," says Barney's Print Management owner, Garry Barnett, "they're a great way for clients to learn about our business."
Riding on the success of the first video release, produced by Melbourne Video Production, Garry commissioned them again for the second video in the series. "We wanted to reveal the behind-the-scenes side of the business," comments Garry, "and the guys at Melbourne Video Production knew exactly what to do."
One of Barney's Print Management's more popular services is creating and installing decals, used for door or window signage. The process of installing these decals can be a sticky affair, and Garry wanted to show his clients the skill it takes to complete the process.
"The second video in our campaign focuses on applying a decal. In order to get it right the first time, there are several components the installer has to take into consideration," comments Barnett, "this video shows how a true professional can get it done quickly."
The traditional cost for commercials would put this type of serial advertising beyond the reach of most businesses, but now with YouTube marketing, businesses like Garry's can create campaigns to rival the competition. "It's really leveled the playing field for us," remarks Garry, "our ads are exposed to the same audiences as the bigger corporations, but with the added advantage of lower costs."
"Now that we've launched a successful web video campaign" he continues, "and it being so easy and affordable, we plan to produce more videos in the coming months."
To view Barney's Print Management next video in their series, visit: http://youtu.be/aMWDJDmFcOw
About Barney's Print Management
The idea behind Barney's Group is to let a specialist manage your print process from concept to delivery. What this means is that by having one central point of contact for all your printing needs there is likely to be significant savings in both the cost and in the time taken to organise the jobs. That's how Barney's Group can make a significant difference to you our valued customers.
Barney's Group offers a completely integrated client solution including print management, signage solutions, promotional products, centralised storage of printed collateral and a distribution/freight network to anywhere local or overseas at the most economical freight rates. It's a business-to-business solution offering a single point of contact for you.
Barney's has offices in Melbourne, Sydney and Guangzhou, China. We established the office in China to ensure that the products we source from there meet with the quality expectations that we have in Australia. Our staff in China have been trained in printing in Australia and understand very clearly our quality processes.
For more about Barneys Print Management, visit http://www.barneys.com.au