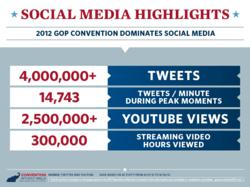 It [Social Media] shows our governments are opening up two-way communications with us – and that's great progress right there
Melbourne, Australia (PRWEB) September 06, 2012
America's facing a major change as the search for their next President commences with the Republican and Democratic National Conventions. Finally using web video and social media technology as part of their strategy, the Republican National Convention has 'wowed' the country with its stats.
The live-streamed Republican event spurred on more than 4 million tweets (at one point, hitting a high of 14,743 tweets per minute) and got over 2.5 million YouTube views. Those kind of vigorous statistics are making governments realize the full power of social media and YouTube marketing.
"This was the first time the Republican National Convention has ever live-streamed anything on YouTube," says David Jenyns, Director of Melbourne Video Production, "which has proved to be an encouraging step into the world of interactive social media."
Impressively, YouTube marketing was always the main focus for the Republican National Convention, which was also called the "Convention Without Walls," because they wanted to encourage US citizens to interact with the event via social media, regardless of their geographical location. The search engine giant Google, along with megalithic web video site YouTube, were the main live-stream providers for the convention.
Not only has the use of social media and YouTube for the Republican National Convention set the standard for the Democratic party, David continues, "after all this, we're going to see more political parties around the globe use YouTube video marketing to help forward their causes."
David continues, "Since the Republican National Convention closed last week, it'll be very interesting to see how the Democratic National Convention's social interaction stats turn out."
"I'm not for, or against, either party," remarks David, "but I must say, it's going to be hard to beat the Republicans 300,000-plus hours of streaming video views within a 3-day period." The Democratic National Convention is currently in motion and will end on Thursday, 6th September.
David further comments that the use of live-streaming on YouTube, combined with interactive social media like Google+ Hangouts, Skype, Twitter and Facebook is "encouraging to the citizens of the world, it shows our governments are opening up two-way communications with us – and that's great progress right there."
The Democratic National Convention is currently being streamed live on Youtube: http://www.youtube.com/user/DemConvention2012?feature=watch
About Melbourne Video Production
Melbourne Video Production is a division of MelbourneSEOServices.com, a full service search engine optimization (SEO) consultancy, based in Australia, but with a worldwide client base.
Melbourne Video Production has the unique ability to combine their web video expertise with strategic SEO practices from Melbourne SEO.
Director, David Jenyns, has, over several years, built a team of experts who are niche experts to support the business, and who share his ethos for ethical, professional internet marketing and web video.
Want to know how to start your own YouTube marketing campaign? Click here.