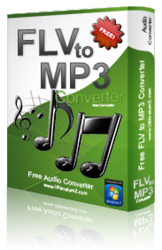 (PRWEB) December 10, 2012
Popular software downloading platform UltimatumZ.com now introduces latest free YouTube to MP3 converter. This software is named FLV to MP3 Converter, which is capable of extracting soundtracks from online videos.
The website has already introduced many YouTube to MP3 converters, but the latest software can extract sound track not just from YouTube, but also from other online media such as Google Video, MegaVideo, MetaCafe and more.
The software is now available for download on the site of UltimatumZ.com and it is completely free. Most of the online medias including YouTube, Google Video, MetaCafe, etc, make use of FLV videos. Most of the music players and the latest car stereos do not support this version of media file. FLV to MP3 Converter software can extract sound track from the FLV files and convert into MP3. Thus, it helps the users to enjoy their favorite remixes or songs over YouTube or other online video source on their music player or car stereo.
The owner of UltimatumZ.com says, "We always bring the latest and the best media file converters and this FLV to MP3 converter is yet another example. You can download this YouTube to MP3 converter by visiting our website now and enjoy playing your favorite YouTube sound tracks on your multimedia devices."
Many media player experts have already appreciated the performance of this FLV to MP3 Converter. The Quality Analyst at UltimatumZ.com has given thumbs up to this product. He said, "This free YouTube to MP3 converter is easy to use. All you need to do is use the simple slider and control the size and the quality of the file. It is supportive of batch conversion process and conversion of numerous FLV files into MP3. All you get is highly professional output with rookie controls."
Peter Jones from San Diego recently downloaded the tool and he says, "I love to stream music videos and remixes from YouTube and obviously like them to play on my music player. I downloaded this YouTube to MP3 converter and I am quite happy with the result. The software is very easy to handle and it works quite well."
About the Company- UltimatumZ.com provides downloadable software tools to the users. They mostly make available the converter software tools. Find out more about the company and their latest YouTube to MP3 software by visiting http://www.ultimatumz.com/index.php/program/Free_FLV_to_MP3_Converter-_Download_FLV_to_MP3_Converter_to_extract_sound_tracks_from_online_videos#site.