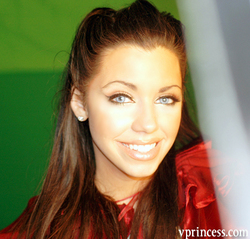 Boston, MA (PRWEB) January 24, 2008
Creativity is finally being rewarded with the help of today's technology. The talented 23-year-old who goes by the username VenetianPrincess on YouTube is a perfect example of that.
Her YouTube Channel: youtube.com/VenetianPrincess
She currently has 40 original videos on YouTube, which have attracted 18 million views.
What is people's fascination with this girl? For starters, she has a very distinctive look that one would usually expect to find on the red carpet or in the pages of People Magazine. But her fans will tell you, there is a whole lot more to her than that.
All of her videos are completely created by her alone. She writes, acts, edits, and shoots everything within her Massachusetts home. She also plays all of the characters, disguising herself in elaborate costumes.
VenetianPrincess videos include comedic celebrity parodies in the form of music videos. One of her most popular being "Brangelina, Adopt Me Too", an upbeat music video of her plea for Angelina and Brad to welcome her into their expanding family.
In addition to her celebrity spoofs, She also broadcasts a period series called "Cirque De Mystere" which takes place in a 1940's traveling circus.
Among her videos, her most impressive collection is a fantasy series called "The Princess Chronicles", a home-made fairy tale adventure with eccentric characters and story lines. The series has been compared in style to blockbusters like "Harry Potter' and Disney's 'Around The World in 80 Days.'
Watching her videos, one comes to discover her extraordinary abilities; both artistically and technologically. Her videos display enchanting graphics and visual effects, one would assume were created by a major motion picture studio.
Out of all the internet characters popping up in the media these days, this girl has proven herself worthy of real life stardom.
This week she was officially crowned Samsung's Juke Box Hero in a national contest held to find a fresh new talent. She was awarded $10,000 in prizes of her choice, and is expected to sing in a televised promotional tour for Samsung throughout the year. Her winning entry was a music video called "Somewhere Else" that she produced for an original song she wrote and sang.
If you are a YouTube User and would like to see her videos as soon as she posts them, you can subscribe to her YouTube channel at:
# # #