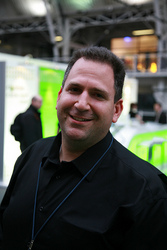 Waiting For Your Cat to Bark?
Boston, MA (PRWEB) September 4, 2009
Both a New York Yankees fan and an Ohio Buckeye have praised YouTube and Video Marketing: An Hour a Day by Greg Jarboe, who is a citizen of Boston Red Sox Nation and a Michigan Wolverine.
Bryan Eisenberg, co-founder of Future Now, Inc., which is located in New York City, said, "What makes Greg so great at online PR is his captivating storytelling ability. What makes YouTube and Video Marketing: An Hour a Day a must read are Greg's storytelling abilities. After all, it is the millions of stories that are told on YouTube every day by people like you that make it such a powerful marketing medium. If you won't find an hour a day to invest in learning to make it work for you, don't worry your competitors will tell the story of their success."
Matt Bailey, president and founder of SiteLogic, which is located in Canton, Ohio, said, "Being from Ohio, we used to say that the best thing to come out of Michigan was an empty bus. Greg Jarboe has changed that with his book about YouTube marketing. I'm really looking forward to reading this. I've heard all kinds of stories about Greg researching the book and talking with different companies about how using YouTube really enhanced their business, really broken new ground, and changed the rules of marketing. So, I'm really looking forward to see all of the work that Greg has put into this. I know he has gone about this semi-seriously and I think you'll enjoy it as well."
Published by Wiley, YouTube and Video Marketing: An Hour a Day is a complete, task-based guide to developing, implementing, and tracking a video marketing strategy. This 504-page guide provides extensive coverage of keyword strategies and video optimization, distribution and promotion strategies to other sites and blogs, YouTube advertising opportunities, and crucial metrics and analysis. For more information about the paperback book or to read excerpts of Chapters 1 and 11, go to http://www.wiley.com/go/youtubehouraday.
About Bryan Eisenberg
Bryan Eisenberg is a co-founder of Future Now, Inc., an interactive marketing optimization firm. He has been recognized by eConsultancy members as one of the top 10 User Experience Gurus and was selected as one of the inaugural iMedia Top 25 Marketers.
Eisenberg is the co-author of the Wall Street Journal, Business Week, USA Today and New York Times bestselling books "Call to Action", "Waiting For Your Cat to Bark?" and "Always Be Testing". He is also the publisher of the popular marketing optimization blog GrokDotCom.
Eisenberg has been the keynote speaker for Search Engine Strategies, Shop.org, Direct Marketing Association, MarketingSherpa, E-consultancy, Webcom and the Canadian Marketing Association. He is also the co-founder and Chairman Emeritus of the Web Analytics Association. He serves as an advisory board member of Search Engine Strategies, the eMetrics Marketing Optimization Summit and several venture capital backed startup companies: Bazaarvoice, iPerceptions, ClickEquations.
About Matt Bailey
Matt Bailey is the president and founder of SiteLogic, a website marketing consultancy, and has been training businesses about website marketing since 1997. He also serves on the Advisory Board for Incisive Media's Search Engine Strategies Conferences.
Bailey is in demand worldwide as a speaker for the Search Engine Strategies conferences, the Direct Marketing Association (DMA), and the American Advertising Federation. He speaks at over 30 international conferences, seminars, and training sessions each year. Seminar attendees consistently rave about Matt's conversational, entertaining speaking style and his ability to explain high-level search marketing concepts in a way that even "non-techies" understand.
Bailey is the primary trainer and developer for the DMA's search engine optimization certification program, and the trainer for its two-day website marketing seminar. This year, he was selected as the DMA's emissary to France because of his expertise in search marketing.
About Greg Jarboe
Greg Jarboe is the president and co-founder of SEO-PR, a search engine optimization firm, public relations agency, and video production company. He is a frequent speaker at Search Engine Strategies conferences and a correspondent for the Search Engine Watch Blog.
Founded in 2003, SEO-PR has offices in Greater Boston and San Francisco. SEO-PR won a Golden Ruler Award from the Institute for Public Relations and PR News and was a finalist for SES Awards in three categories: best social media marketing campaign, best B2B search marketing campaign, and best integration of search with other media.
Jarboe is one of the people profiled by Michael Miller in "Online Marketing Heroes: Interviews with 25 Successful Online Marketing Gurus". He is also a member of the Market Motive faculty and a principal in the ChannelOne Marketing Group. He graduated from the University of Michigan and is a Boston Red Sox fan.
###