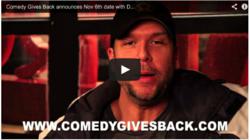 "Our goal is to unite the traditional and online comedy community for this one day global event benefiting a charity and to create awareness for Malaria No More," ~ Amber J. Lawson, Comedy Gives Back Co-Founder
Los Angeles, CA (PRWEB) May 20, 2013
As part of YouTube Comedy Week, Social Benefit Enterprise Comedy Gives Back will host the livestreamed International Comedy Show on Monday, May 20, 2013 at 6pm PST/ 9pm EST with YouTube Comedy Week Producers JASH. This global online show will be headlined by top comedians: Rob Delaney (Boston "Burning Love"), Rove McManus (Australian "Finding Nemo"), Greg Berhendt (San Francisco "Sex and the City", "He's Just Not That Into You"), and Matt Kirshen (UK "The Late Late Show with Craig Ferguson") Retta ("Parks and Recreation"), Daniel Kinno (Russian), Jeremy Hotz (Canadian), Ahmed Bharoocha (Syrian) and Henry Phillips ("Comedy Central Presents").
Anyone with internet access can watch this Comedy Gives Back show LIVE on YouTube on Monday, 5/20/13 at 6pm PST/ 9pm EST here http://www.youtube.com/comedyweek
Comedy Gives Back is the go-to organization that gives back through laughter year-round. This group is also proud to announce the date of their main event Wed, Nov 6, 2013, benefiting Malaria No More (Co-Founded by Ray Chambers & Peter Chernin). This 24-hour global telethon will live stream 5 shows in 4 cities (Improv in Los Angeles, Gotham Comedy Club in New York, London and Sydney, Australia). This "telethon 2.0" corresponds with the opening night of the New York Comedy Festival.
Comedians Dane Cook, Adam Carolla ("ACE Networks"), Kevin Nealon ("Weeds", "SNL"), Adam Devine ("Workaholics") and Skylar Stone ("Raising Hope") star in a new Comedy Gives Back video campaign called "Preventable" announcing the Nov 6th event benefiting Malaria No More. A child dies every minute from Malaria, and it is preventable and treatable! Watch this new "Preventable" video here http://youtu.be/nH2Uao7fqlU
"Our goal is to unite the traditional and online comedy community for this one day global event benefiting a charity and to create awareness for Malaria No More," stated Amber J. Lawson, Comedy Gives Back Co-Founder and former head of AOL Programming. To keep up with the news and videos, Subscribe to Comedy Gives Back YouTube Channel
Confirmed talent for the Nov 6, 2013 Comedy Gives Back show benefiting Malaria No More include: Dane Cook ("Mr. Brooks"), Kevin Nealon ("Weeds"), Greg Fitzsimmons ("Big Dog Radio"), Josh Wolf (Chelsea Lately), Kevin Pollak ("Kevin Pollak's Chat Show", "The Usual Suspects"), MaryLynn Rajskub (Chloe on "24"), and Michael Buckley ("What the Buck".)
In addition to these comedians and entertainers, the Goody Awards are contributing marketing resources to support Comedy Gives Back. Along with encouraging everyone to tweet awards to people doing social good, they will present Comedy Goody Awards at the main event Nov 6th.
Join Comedy Gives Back's International Stand Up Show at 6pm PST/ 9pm EST on Monday, 5/20 during YouTube's Comedy Week, and stay tuned for the really big show on Wednesday, Nov 6, 2013
About
Comedy Gives Back, formerly Transforming the World Through Comedy, is a Social Benefit Enterprise whose November 2013 event is the 2nd annual global interactive 24-hour live streamed stand-up comedy event. @ComedyGivesBack is the social enterprise brainchild of Amber J. Lawson, Zoe Friedman and Jodi Lieberman. The multi-platform event raises awareness and funds through live stand-up comedy shows that are streamed live from various time zones around the world. The funds raised support an annual catalytic philanthropy. Subscribe on Comedy Gives Back YouTube Channel, Like on Facebook http://facebook.com/comedygivesback and Follow on Twitter @ComedyGivesBack.
Media Contacts:
Amber J. Lawson, Comedy Gives Back
310-770-4577
Liz H Kelly, Goody Awards
310-987-7207