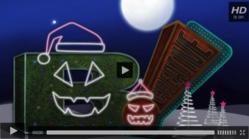 "When I found out a few shortsighted neighbors had put a halt to this genius grass-roots phenomenon, I decided that our annual Christmas eCard would pay homage to Creative Lighting," says Al Bergeron, President and Chief Creative Officer
North Grafton, Massachusetts (PRWEB) December 15, 2012
This Christmas, Bergeron Creative Studios, a nationally recognized award-winning branding firm, decided to pay tribute to Creative Lighting Displays' famous lighting show videos with this year's holiday eCard. http://www.youtube.com/watch?v=pbrtNDNKtRs&feature=share&list=UUHtx8empvMuUzixHRIYNaDg
Creative Lighting Displays developed a series of Halloween and Christmas lighting shows featuring their house, which was the catalyst to a national sensation on YouTube. "At Bergeron Creative, we've been big fans from the beginning," says Dara King, Director of Social Media at Bergeron Creative Studio. "In 2010, their 'Thriller' http://youtu.be/GUAV_1jBJB4 lighting show video went viral with an audience with over 1.2 million views on YouTube, which at the time we thought was amazing." The following year, the release of their "Party Rock Anthem" http://youtu.be/UfcNoMnKjrY lighting show video, catapulted them to pop culture legend status, receiving over 8.5 million views on YouTube and a line up of appearances on national television channels.
To top it off, Creative Lighting was chosen to appear in LMFAO KIA Soul Commercial http://youtu.be/xPgr18n6MJA and the LMFAO closing performance on the 2011 American Music Awards http://youtu.be/jQ9cdsMww3c, cementing their place in popular culture. As their popularity grew online so did the crowds showing up at their lighting shows in person, apparently upsetting a few neighbors. As Creative Lighting was trying to come up with a solution to the crowds in partnership with the city—including a police presence, traffic controls, port-a-potties and trash pickup—the housing community where they live pulled the rug out from under them by passing a ordinance disallowing the displays. They are currently exploring new venues and have put their amazing lighting shows on hold for 2012—a big disappointment for fans like Bergeron Creative Studios.
"When I found out a few shortsighted neighbors had put a halt to this genius grass-roots phenomenon, I decided that our annual Christmas eCard would pay homage to Creative Lighting," says Al Bergeron, President and Chief Creative Officer of Bergeron Creative Studios. "Our Christmas eCard is an animation not an actual lighting show; it's art imitating popular culture in the spirit of Pop artists such as Andy Warhol."
We hope those unhappy neighbors and the housing community that passed the ordinance will consider just how rare a phenomenon like this comes along—and have a change of heart, reversing this misguided decision.
About Bergeron Creative Studios http://www.bergeroncreative.com/
Bergeron Creative Studios, a nationally recognized award-winning branding firm, integrates physical, digital and social media with Internet marketing to engage prospects in dialog. We are innovative entrepreneurs who are passionate about ideas. For two decades, fresh ideas grounded in smart strategic thinking have invented and reignited brands to achieve measurable marketing results.
About Creative Lighting Displays http://www.creativelightingdisplays.com/
Creative Lighting Displays was started in reaction to thousands of requests asking, "how do you do it and where can I get those lights?" They will update their website with videos, pictures, how-tos, events and much more. They will also add a store soon so others can create and build their own displays. Creative Lighting Displays custom-built most of the lighting they use in their displays. The store will consist of both DIY and "Plug and Play" lighting, props controllers and software.
************************************************************************
For more information please contact:
Dara King
Bergeron Creative Studios
Director of Social Media
617-834-6840
dara(at)bergeroncreative(dot)com
http://contagious-ideas.com/creativelighting-xmasstribute