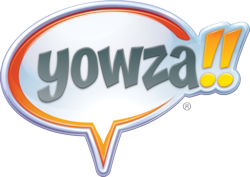 Yowza!! is not only helping the environment, but is also helping consumers and businesses in these uncertain economic times.
Los Angeles, CA (PRWEB) April 18, 2012
Statistics suggest more than 100 million trees are killed every year in the production of junk mail. Of that junk mail, paper coupons make up a significant portion. However, one technology company, Yowza!!, has found the solution to the problem via their GPS-based mobile coupons, which require no paper, no ink, and no overstuffed mailboxes.
Yowza!! is a free mobile app that delivers real-time coupons directly to consumers' smartphones. What's more, Yowza!! coupons are location-based, so shoppers are able to easily view offers from retailers conveniently located in their immediate area. And unlike internet-based coupon sites, there is never any printing required. This puts an end to superfluous paper coupons, which if useful, must be clipped or printed and saved for a relevant moment, while the rest are trashed.
"Yowza!! is not only helping the environment, but is also helping consumers and businesses in these uncertain economic times," says David Teichner, CEO of Yowza!!. "In this digital age, most people are turning to their mobile devices for news, research, and now deals. Yowza!! personalizes and streamlines the couponing experience for everyone involved."
In addition to paper coupons' burden on the environment, they are also becoming less and less effective. With the majority of people using smartphones, it is no longer smart business to market through paper mailers and ads. For a low monthly rate, Yowza!! gives businesses the ability to communicate with shoppers via the most accessed medium there is: the smartphone. Businesses can promote up to 3 offers at a time and easily track their efficacy.
"It is difficult to wrap our minds around the amount of waste accumulated through paper coupons alone," says Teichner. "At the same time, coupons can help families save money and can be a valuable marketing tool for retailers. Yowza!! has created the happy medium that helps people save and businesses prosper, with no negative environmental impact."
Whether saving the planet or saving a few bucks, Yowza!! is the completely waste-free solution to the paper coupon problem.
iPhone Download: http://getyowza.com/download/iphone
Android Download: http://getyowza.com/download/android
For more information, visit http://www.getyowza.com/
For media inquiries and/or to arrange an interview, please contact Tyler Barnett at 323.937.1951 or tyler(at)tylerbarnettpr(dot)com
About Yowza!!
Yowza!!® is the leading location-based mobile coupon, offer and announcement application, saving millions of consumers money on everyday purchases while increasing sales at thousands of local and national retailers, including McDonald's, Dunkin' Donuts and Big 5 Sporting Goods. Businesses have the ability to add and update offers in seconds, effectively track results and dramatically increase sales by reaching new and existing customers with compelling coupons and information. Yowza!! was co-founded by television and film writer/producer/actor Greg Grunberg, who is best known for his roles in hit series Heroes, Alias and Felicity.