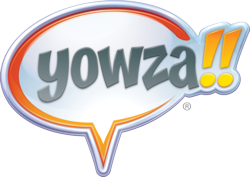 "We're creating yet another Yowza!! moment," says Grunberg in the adorable video. "The perfect combination…Menchie's and Yowza!!"
(PRWEB) April 05, 2012
Menchie's patrons get the scoop on savings from actor Greg Grunberg in a new video for leading mobile coupon app, Yowza!!. The free-to-download app delivers real-time, location-based coupons directly to individuals' smartphones, giving them instant savings at a wide variety of retailers, including the incredibly popular Menchie's frozen yogurt shop in Sherman Oaks.
"We're creating yet another Yowza!! moment," says Grunberg in the adorable video. "The perfect combination…Menchie's and Yowza!!"
Not only did the yogurt shop patrons receive instant savings on their treats, but they also had the surprise opportunity to meet Grunberg, whose quirky sense of humor definitely had the entire place laughing and having fun.
"We are thrilled to be partnering with a progressive company like Yowza!!," says Marla Halac, Owner of Menchie's Sherman Oaks. "We are reaching our customers in a whole new way, and they are loving the convenience of having our offers available right on their smartphones."
Grunberg co-founded Yowza!! to help fit coupons into the modern consumer's lifestyle. With the GPS-based mobile app, consumers no longer need to sift through paper coupons or remember to bring them along. Yowza!! sends coupons directly to shoppers' phones based on where they are, taking the work out of couponing.
Now, with a little help from Yowza!!, Menchie's lovers in Sherman Oaks can get their flavor of the week at a delicious discount.
Anyone can download the free app for iPhone at http://getyowza.com/download/iphone and for Android at http://getyowza.com/download/android.
For media inquiries and/or to arrange an interview, please contact Tyler Barnett at 323.937.1951 or tyler (at) tylerbarnettpr (dot) com.
About Yowza!!
Yowza!!® is the leading location-based mobile coupon, offer and announcement application, saving millions of consumers money on everyday purchases while increasing sales at thousands of local and national retailers, including McDonald's, Dunkin' Donuts and Big 5 Sporting Goods. Businesses have the ability to add and update offers in seconds, effectively track results and dramatically increase sales by reaching new and existing customers with compelling coupons and information. Yowza!! was co-founded by television and film writer/producer/actor Greg Grunberg, who is best known for his roles in hit series Heroes, Alias and Felicity.