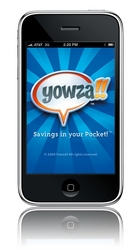 With more than five million users taking advantage of the pre-holiday shopping bargains of our 300 merchants in over 15,000 locations nation-wide, Yowza!! is the ultimate holiday shopping tool
Los Angeles, CA (PRWEB) November 18, 2010
Black Friday and Cyber Monday have become synonymous with saving money, but 2010 has been a breakthrough year for mobile coupons. Yowza!!®, the free mobile coupon application co-created by Greg Grunberg (star of new NBC series Love Bites, and alumnus of Heroes, Alias, Felicity and many others) today announced the first-ever Mobile Weekend(SM) couponing event! Yowza!!® is encouraging people to shop smart and take advantage of exclusive offers delivered directly to their mobile phones just in time for the busiest – and often most expensive – shopping season of the year. Beginning Saturday, November 27 and Sunday, November 28, 2010, retailers from Yowza!!'s roster of over 300 partners will be taking advantage of Yowza!!'s mobile coupon application to offer major Mobile Weekend(SM) coupon discounts to consumers around the United States.
According to the NRF 2010 Holiday Consumer Intentions and Actions Survey, 40.6% of shoppers say they will be using more coupons for holiday shopping this year. Further, over one-fourth of American adults with a smartphone (26.8 percent) will use these devices to research or make holiday purchases. This year, during the first official Mobile Weekend(SM) couponing event, hundreds of retailers nationwide will offer exclusive deals that can be searched for and redeemed directly from mobile phones via apps like Yowza!!
"With more than five million users taking advantage of the pre-holiday shopping bargains of our 300 merchants in over 15,000 locations nation-wide, Yowza!! is the ultimate holiday shopping tool," said Grunberg. "By using mobile coupons – starting on Mobile Weekend(SM) and beyond – the only thing shoppers will have to worry about this holiday season is finding a parking space."
Yowza!! also announced today the first two major retailers to offer Mobile Weekend(SM) deals. At Lane Bryant, Yowza!! users can 'Buy One Get One Free' (good for anything in the store except Spanx® products and panties). Additionally, Yowza!!'s newest retail partner, Big 5 Sporting Goods (Nasdaq:BGFV) – a leading sporting goods retailer with 396 locations in 12 western states – is offering 20% off one regular item or 10% off one sale item, with use of its Yowza!! mobile coupon during the Mobile Weekend(SM) couponing event.
"The sporting goods category has been one of Yowza!!'s most successful to date, with redemption rates in the double-digits, and we're thrilled to be offering coupons from Big 5 to our users in time for the holidays," said Kurt Benjamin, president of Yowza!! "As the year winds down, we look forward to partnering with even more retailers who recognize the value of offering consumers easy-to-use coupons without requiring them to check in, play a game or collect points in order to save money."
According to recent research from Borrell Associates, mobile coupon redemption is expected to grow to $22.3 billion by 2014. This is not a fad, and this holiday season, Yowza!! is teaming up with retailers nationwide to take mobile couponing to the next level. In fact, since launching last year, Yowza!! has helped its partners save consumers more than $5 million with mobile coupons that are as easy to use – if not simpler – than clipping coupons from the Sunday paper. With Yowza!!, the deals find the customers based on their location using the smartphone's internal GPS (or users can search by zip code), and the coupon appears right on the phone's screen, ready to be scanned/redeemed by a cashier or server. No print-outs, no forgetting coupons at home or in the car, no worries.
About Yowza!!
Launched in June 2009, Yowza!!® is a free, paperless, location-based mobile couponing application designed to save consumers money while driving business to 300 retail and restaurant businesses, in over 15,000 locations nationwide. With more than five million users – via both the iPhone and iPod touch, as well as on Blackberry, Palm Pre and Android devices through Yowza!!'s partnership with WHERE – Yowza!! provides consumers with deals and discounts, and gives businesses the ability to monitor performance on an up-to-the-minute basis. Yowza!! was founded by television and film writer/producer/actor Greg Grunberg (from NBC's Love Bites, as well as hit dramas, Heroes, Alias and Felicity) and technology entrepreneur August Trometer. Unlike traditional forms of couponing such as newspaper ads and insertions, the paperless Yowza!! offers are inexpensive to implement, environmentally-friendly, can be updated instantly, and can be targeted per region or particular store location. For more information, visit http://www.getyowza.com or http://www.twitter.com/yowza.
(Press note: artwork available on request.)
###