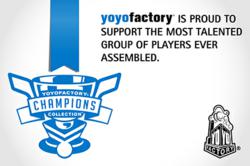 A yo-yo for beginners, enthusiasts and pros, search no more for a great value at every price point.
Schenectady, NY (PRWEB) September 25, 2012
Bang for the buck, it is tough to beat Yoyofactory Champions Collection yo-yo's. Each yo-yo was hand selected by some of the top players, including Ann Connolly, Steve Brown, John Ando, Gentry Stein, Hiroyuki Suzuki, Alex Garcia and Team Shaqler.
The yo-yo's range in price from $8.99 for the Ann Connolly Whip - Champions Collection yo-yo to $97.50 for the YoYoFactory Equilateral over at TheYoStoreToo. Be sure to check out the video showcasing the Ann using the Whip and see what you can do with a yo-yo priced under ten dollars!
The Alex Garcia Loop 808 is another excellent value priced at $9.99 and is designed to be a high performing looping yoyo. Looking for a yo-yo that helps you perform tricks like a pro, try the ShaqlerStar yo-yo with it's spacious gap and trick friendly weight distribution. A fun, fast, smaller pocket sized yo-yo is the Gentry Stein GFunk, coming priced right in the middle of the pack at $45.
The last two yo-yo's in the collection fall in the $50 - $100 price range and they include Steve Brown's Roll Model and World Champion, John Ando's, YoYoFactory SuperStar yo-yo. Any serious yo-yo fan could appreciate either one of these high performing yo-yo's.
YoYoFactory did an excellent job putting together this showcase of top performing yo-yo's for every price point and skill level. TheYoStoreToo has expanded it's collection of YoYoFactory yoyo's as well as Onedrop, Duncan, YoYoJam, Yomega, Spyy, Dif-e-Yo and a variety of strings and yoyo accessories. Subscribe to TheYoStoreToo's newsletter and find them on Facebook and Twitter for up-to date news, announcements, and sales. Be sure to check out TheYo yoyo forum to chat with other fellow yoyoers from across the globe.