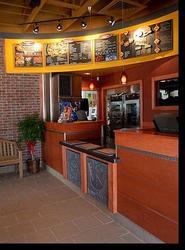 The Northeast market has been historically under penetrated
Hartford, Conn. (PRWEB) October 18, 2007
Yum! Brands, Inc., the world's largest restaurant company with over 34,000 restaurants in over 100 countries, is interested in opening up to 16 franchised locations in the Hartford area within the next few years. The new multibranded Pizza Hut & WingStreet stores, which double menus and revenue streams, will provide a franchise alternative not found to date in the Hartford area. Private investor meetings are being held on Nov. 13th and 14th to provide information on Yum!'s plans for development in the Hartford area.
Yum! conducted a market study to analyze whether the demographics warranted new store locations in Hartford and surrounding areas. During Yum!'s history it has supervised the opening of 7,500 Pizza Hut and 1,000 WingStreet locations within the United States. The Pizza Hut and WingStreet brands are ranked # 1 in their respective food categories nationally. Recently WingStreet earned the coveted "Hot Concepts! Award" from Nation's Restaurant News.
"The Northeast market has been historically under penetrated," states Scott Haner, Yum! Vice President of Franchise Development. "With the unique co-branding of Pizza Hut & WingStreet stores and the excitement that surrounds them, now is the time to seek the leadership to provide this new type of service to the Northeast communities."
With a track record of 50 years in the franchise industry, Yum! Brands, Inc. will provide a proven system to open the new multibrand stores in the Hartford area that could bring approximately 400 new jobs to the community. About 30% of those jobs would be full-time positions and the remaining 70% would be part-time jobs.
Hartford Mayor Eddie A. Perez says, "The decision by Yum Brands to branch out into the Hartford market is symbolic of the Capital City's momentum. It is a clear expression of confidence. We look forward to the opportunity to work with this internationally recognized corporation to bring new jobs to Hartford residents."
In an effort to inform the Hartford business sector of Yum!'s track record, corporate culture and multibrand franchise offering, private events will be held on Nov. 13th and 14th. Haner will be present at both of these events to meet with community leaders and interested investors to answer questions about Yum!'s plans in the Hartford area. Yum! is seeking experienced entrepreneurs interested in leveraging their expertise to build multiple stores.
Yum! Brands, Inc. has accumulated a long list of accolades for its franchise expertise. Institutional Investor Magazine's 2007 Corporate rankings listed Yum! as America's #1 most shareholder-friendly and Chairman and CEO, David Novak, as the #1 best CEO in the survey's restaurant sector for delivering the best results to investors. For the past two years, Yum! has appeared in Fortune's top 50 "Best Companies for Minorities," claiming the number-one spot for "managerial diversity." The franchise leader has also been acknowledged in Hispanic Magazine's "Top 100 Companies for Hispanics" and Fortune's "Top 50 Best Companies for Women".
"The ability to offer two # 1 brands in one franchise offering is rare," continues Haner. "We look forward to sharing our new opportunity with leaders who can envision the development of a territory with Pizza Hut & WingStreet multibrand restaurants."
About Yum!
Yum! Brands, Inc., based in Louisville, Ky., is the world's largest restaurant company in terms of system restaurants with over 34,000 restaurants in over 100 countries. Four of our restaurant brands - KFC, Long John Silver's, Pizza Hut and Taco Bell - are the global leaders of the chicken, quick-service seafood, pizza and Mexican-style food categories. WingStreet, Yum!'s newest brand, has already celebrated the opening of 1,000 locations in the United States. A&W Restaurants is the longest running quick-service franchise chain in America. In 2006, Yum! Brands generated more than $9.5 billion in total revenues, including company sales and franchise fees.
For an overview on Yum! Brands, Inc. and its corporate initiatives please visit: http://www.Yum.com
For information specific to Yum! franchises, please visit:
http://www.YumHartford.com
###