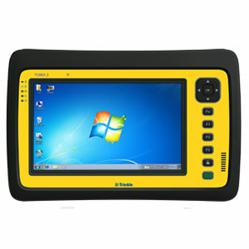 The Yuma 2 tablet delivers the high performance and ease-of-use of a tablet, with ruggedness and long-term support that customers have come to expect from Trimble.
Chandler, Arizona (PRWEB) November 06, 2012
Group Mobile, well known for carrying the top brands in rugged laptops, rugged tablets, rugged PDAs, and rugged handheld computers has recently extended its product offerings to include the newest Trimble outdoor rugged tablet computer. The Yuma 2 is a powerful mobile computing solution that provides full office capabilities in the field for construction, transportation, public safety, field service, forestry, utilities, mapping, insurance, and any other outdoor or service-related industries.
"Ruggedness and connectivity in the field are vital for mobile workers, and Trimble has a history of providing innovative computing solutions to the market," said Jim Sheldon, general manager of Trimble's Mobile Computing Solutions Division. "Today, users demand solutions that are even tougher, faster, more reliable and easier to use, so they can be more efficient and productive. With new features and functionality, the Yuma 2 is an ideal solution that provides even more computing power to mobile professionals — more memory, computing speed, drive capacity, connectivity options, and better display readability."
The Yuma 2 offers a 7-inch capacitive multi-touch screen in an easy-to-hold form factor weighing less than three pounds. Featuring new display technology for clear readability in direct sunlight, the Yuma 2 can be used by mobile workers in the brightest outdoor conditions. The 3.75G dual-mode cellular data capability enables connectivity anywhere GSM or CDMA cellular networks are available.
The Yuma 2 features Microsoft® Windows 7 Professional operating system, a 1.6GHz Intel Atom dual-core processor, 4GB of DDR3 DRAM, a 64GB solid state drive (SSD) and a dual battery with eight hours of typical run-time. Optional features include a 128GB SSD, 3.75G cellular data connectivity and an Extended Battery Set that provides up to 16 hours of operation.
With the multi-touch capacitive touchscreen, users can type with fingers, stylus or capacitive gloves and can control the size of the keyboard on the display. Controlled zoom optimizes the user experience with maps and detailed information. The display can be used in portrait or landscape mode and is configurable to hold the orientation or to alter it in response to the accelerometer. The integrated 5-megapixel camera provides video and photo capture with geo-tagging. The GPS receiver, with 2-4 meter accuracy, makes the Yuma 2 ideal for data collection in distributed asset management, work order management, fleet logistics, and more.
As with other Trimble rugged mobile computers, the Yuma 2 meets stringent MIL-STD-810G military standards for drops, vibration and humidity; and with an IP65 rating, it is protected against dust and water.
"Trimble outdoor rugged computers have always been a favorite among our highly mobile customers because of their exceptional ruggedness and dependability, as well as Trimble's years of experience in designing outdoor rugged mobile solutions," said Stephanie Kreitner, Marketing Director for Group Mobile. "The Yuma 2 tablet delivers the high performance and ease-of-use of a tablet, with ruggedness and long-term support that customers have come to expect from Trimble."
Four different configurations are available to provide the tablet that meets the right need at the right price. Options include a larger SSD and 3.75G GSM and CDMA cellular data capability, as well as three different color schemes. To learn more and order the new Trimble Yuma 2 outdoor rugged tablet, visit http://www.groupmobile.com/product.asp/sku=6261/dept_id=/mf_id=65/Trimble+Yuma+2+Rugged+Tablet+Computer.html, or call toll free 866-784-4338.
About Group Mobile
Headquartered in Phoenix, AZ, Group Mobile serves customers all over North America. Customers range from Fortune 500 companies and the U.S. Military, to local police/fire/ambulance, to small and mid-size businesses, to the frequent traveler that needs something more durable than a commercial, off-the-shelf computer. Group Mobile carries the leading rugged computing brands. In addition, Group Mobile offers vehicle docking and mounting equipment from Gamber Johnson, Ram Mounts, and Havis/Ledco. To learn more about rugged computers and how they differ from commercial, indoor computers, check out the Rugged Computer Guide or visit us online at http://www.groupmobile.com.
About Trimble's Mobile Computing Solutions Division
Trimble's Mobile Computing Solutions Division offers innovative products that enable mobile workers to be more efficient in extreme outdoor and industrial environments. The Nomad®, Recon®, Ranger™, and Yuma® outdoor rugged handheld computers help users collect accurate field data and work more productively in any outdoor or service-related application. Trimble's handheld computers meet MIL-STD-810F/810G military specifications for drops, vibration, immersion and temperature extremes, and with IP65 to IP68 ratings, are sealed against dust and water. To learn more, visit: http://www.trimble.com/rugged.
About Trimble
Trimble applies technology to make field and mobile workers in businesses and government significantly more productive. Solutions are focused on applications requiring position or location — including surveying, construction, agriculture, fleet and asset management, public safety and mapping. In addition to utilizing positioning technologies, such as GPS, lasers and optics, Trimble solutions may include software content specific to the needs of the user. Wireless technologies are utilized to deliver the solution to the user and to ensure a tight coupling of the field and the back office. Founded in 1978, Trimble is headquartered in Sunnyvale, Calif.