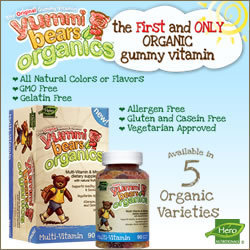 Yummi Bears Organics patent pending formulations are allergen free, gluten free, casein free, gelatin free, GMO free
San Clemente, CA (PRWEB) September 18, 2009
Yummi Bears Organics: The first and only organic gummy vitamin for children.
With increased parental concerns about food sources and supply along with the ever growing trend towards GMO free and Organic products, Yummi Bears is pleased to announce its Yummi Bears Organics line of organic vitamins for children now in natural food stores near you.
"Yummi Bears Organics patent pending formulations are allergen free, gluten free, casein free, gelatin free, GMO free" and are made with all natural flavors and colors to meet parent's needs for healthy vitamins for their children. Yummi Bears Organics are available in five great formulations:

Multi-Vitamin and Mineral - Contains 16 essential vitamins and minerals to promote healthy growth and vitality for your child
Immunity Shield - Unique blend of vitamins and essential herbs to support a healthy immune system all year long
Brain Booster - Expertly formulated to support healthy brain function
Super Vision - The first and only Vision Gummy Vitamin for children. It contains our unique blend to support healthy vision including Lutein, B Complex Vitamins and Zeaxanthin
Bone Builder - Developed to support strong healthy bones, teeth and gums
Yummi Bears Vegetarian
"The First Vegetarian Gummy Vitamin Line for Children"
The maker's of Yummi Bears and Yummi Bears Organics announced today it will launch the first ever all vegetarian line of gummy vitamins for children for the growing population of vegetarian consumers.
Vegetarianism is a growing trend as consumers find the vegetarian lifestyle meets with their dietary concerns. Yummi Bears Vegetarian nutritional supplements ensure that each product is developed to meet young vegetarian's dietary needs in a pectin based gummy. The new line of vegetarian nutritional supplements includes the following products:
Vegetarian Multi-Vitamin and Mineral - Formulated to contain 16 key vitamins and minerals needed for healthy growth and development
Vegetarian Calcium and Vitamin D - Developed to encourage strong bones and the optimal absorption of calcium. This includes vitamin D2 to meet with strict vegetarian standards
Vegetarian Fish-Free Omega 3-6-9 - The first fully Vegetarian Omega product on the market. This pectin-based patent pending formulation uses a plant based Omega source that ensures all the goodness of Omega for healthy brain function without the concerns about mercury.
As with all other Yummi Bears branded products, Yummi Bears Vegetarian vitamins are allergen free, gluten free, casein free and use all natural flavors and colors. Best yet, they are also gelatin free for those who enjoy a vegetarian lifestyle. Yummi Bears Vegetarian vitamins will be available soon in natural foods stores everywhere.
About Hero Nutritionals
In the mid 1990s, Ms. Jennifer Hodges, founder and CEO of Hero Nutritionals, watched as her nieces and nephews gobbled up gummy treats but balked at taking their chalky, chewable vitamins. Hearing the concern from their parent's about the balance of nutrients in their diet, Ms. Hodges, consulted with children's nutritionists, food chemists and production experts. The challenge was to create a new children's nutritional delivery system incorporating the delightful taste of gummy bears without sacrificing nutritional value. Two years later, the first all-natural gummy vitamin, Yummi Bears, was ready for the natural products market and is the #1 selling children's vitamin in the industry today.
Spurred on by the success of Yummi Bears, in 2007, Slice of Life was launched to provide delicious, all-natural gummy vitamins for Moms and Dads, too. It, too, has proven to be a category innovator with strong selling products meeting key nutritional needs for adults with faster absorption times than a typical supplement tablets.
Hero Nutritionals, continued to make news in 2009 with the launch of Yummi Bears Organics, the first organic gummy vitamin for children. Yummi Bears has always been all natural, gluten, casein and allergen free, but with the additional of all organic ingredients, discerning parents can now rest assured their children have the highest quality gummy supplement available on the market. Early sales figures show Yummi Bears Organics have met the needs expressed by many parents in the natural products industry.
To ensure Yummi Bears products continue to evolve with our consumer's tastes and trends, Hero is now launching a full line of vegetarian products. They include: a fish-less omega item, a calcium item, and a multi-vitamin item. The population of vegetarians continues to increase, as more and more consumers find the meatless diet resonates with their lifestyle and traditions. In order to provide the right balance for growing vegetarians, each product contains the essential vitamins and minerals our consumers need. We have taken careful steps to ensure that all ingredients are allergen, casein and gluten free as our other Yummi Bears products continue to be.
Join us at Booth 949 at the Natural Products Expo East in Boston from September 24 through 26 to learn more about our exciting direction for the future.
###