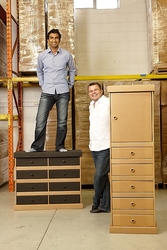 I like to invest in people as much as products and technology. I've learned that investing in people is critical. Our philosophy supports the belief that companies can be both profitable and environmentally ethical.
Toronto, Canada (PRWEB) April 21, 2010
YUP, a Canadian-based eco innovation company, launched by 'YUPstarts' Ian Jackson and VJ Bala, incubates and supports leading eco innovations - products, services, technologies and communities. From YUP Homes, comes the first of many sustainable communities; to YUP Innovation, a growing assortment of leading-edge eco-friendly innovations, including a line of beautiful, durable, recycled and recyclable cardboard furniture made from sustainable forests; to YUP Education, a mentoring and scholarship program designed to assist the next generation of environmental innovators. YUP officially launches at the Green Living Show in Toronto from April 23-25. Four YUP Xpression Centres will soon open across Canada to demonstrate, display and retail YUP innovations. In addition to opening in Vancouver, Calgary and Toronto later this year, the first YUP Xpression Centre opens in Mississauga, Ontario - near Dixie Road and HWY 407 – this coming June.
CEO & co-founder Ian Jackson, formerly the North American Vice President of Sales at Sony, and YUP president & co-founder VJ Bala, engineer consultant and environmental activist, brought their combined expertise to YUP, and together, envisioned a holistic, and realistic way to make a difference in the environment, without sacrificing profit. "I like to invest in people as much as products and technology. I've learned that investing in people is critical," says Ian. "Our philosophy supports the belief that companies can be both profitable and environmentally ethical," adds VJ.
YUP: Homes
Devoted to environmental sustainability and design, YUP, with developer & builder Loon Call Communities, will break ground in the community of Gravenhurst, two hours north of Toronto, in the summer of 2010. Using sustainable materials, all YUP green homes will be built to the LEED® Canada for Homes standard established by the Canada Green Building Council.
This green community will feature green landscape architecture, including an abundance of trees and energy efficient street lights. The developers will save as many mature trees as possible and plant an additional 50 trees for every home built. New homeowners will be offered environmentally-friendly 'YUP-grades' such as solar thermal installations and electric car chargers.
YUP: Innovation
Ian and VJ agreed early on they would not only build homes, but work with people to help them embrace a YUP lifestyle - to pollute less, consume wisely and live responsibly. They would do this by sourcing innovative products and technology. What if they could source a recycled material that could replace existing resources currently used to build furniture, counters, cabinets, fixtures, and more? Well that is just what they did.
As they began researching innovative new products, Ian and VJ met a group of Mexican students enrolled in McMaster University's Engineering Entrepreneurship and Innovation Program. They offered a line of recycled cardboard fibre furniture that was developed and manufactured at a company in Mexico called Creapack. Ian and VJ traveled to Mexico, met the team, recognized the significance of this discovery and realized, with YUP, they had the resources available to refine and re-brand the line and bring it to market. They secured the global exclusive rights for the patent and the product line that, among many other uses, creates attractive, durable, moldable, functional, recycled cardboard fibre furniture.
Due to the way the product is manipulated in production, the patents are based on the structural integrity and the weight-bearing capacity of this material when folded the right way. Think beyond furniture - shipping pallets that hold up to 1.5 tons or more than 1300 kg, kitchen cabinets, store fixtures, an alternative to drywall, cubicles for offices – the possibilities are endless, and very exciting. By replacing wood and other natural materials, this technology is applicable to many industries and it can make a very real and measureable change in the way we live and work.
YUP Xpression Centres
YUP will open the first of four YUP Xpression Centres in Mississauga, Ontario in June, 2010. This YUP environment will retail both the Innovation Line and the Xpression Line of recycled cardboard fibre furniture and its alternative uses, showing off the many ways it can create incredible changes in other industries. Xpression Centres will also devote an area to YUP green homes and the green features and YUP-grades available to new homeowners. Other eco lines will also be available, such as HeyJute, a line of products, accessories, such as jute bags, and packaging solutions, all made from the biodegradable and recyclable vegetable fibres of the jute plant. The inventory will be ever-changing as Ian and VJ scour the globe for the freshest, most unique new products that make a difference to the way we treat the world, and each other.
YUP: Education
YUP Education is a way for YUP to give back and mentor the next generation committed to the importance of a sustainable lifestyle. Sustainability education projects include:

The Stanstead College YUP Stewardship Scholarship awarded to students who demonstrate environmental leadership and action in the candidate's current or previous school and/or community;
YUP Workshops: YUP will host educational workshops to help guide students of all ages to a greener way of thinking, living and doing business.
The YUP Innovation Incubator – YUP will partner with McMaster University's Engineering Entrepreneurship and Innovation Program to incubate green technology companies
About YUP
YUP, the brainchild of Ian Jackson and VJ Bala, was founded in 2009 and is devoted to helping people pollute less and consume wisely; innovating so people can live responsibly; educating people on protecting the earth
and preserving and protecting tomorrow's future today.
Big changes are required to live responsibly and sustainably. Ian Jackson and VJ Bala are saying "YUP, we're here to help you do it!"
For additional information and images, please visit the Media Room online at http://www.yupinc.ca. VJ Bala and Ian Jackson are available for interviews. Please contact Laurie Hall at Flex PR: laurie(at)flexpr(dot)com or 416-696-5554.
###