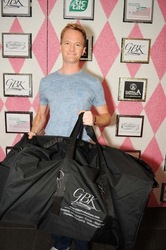 With a quick location change indoors and the help of an experienced Bee Keeper, it still turned into a Bee-utiful day
Los Angeles, CA (Vocus) August 31, 2010
GBK (gbkproductions.com) - the luxury lifestyle gift lounge and special events company, along with Tic Tac® mints – a leading mint brand for more than 40 years and launched in the U.S. in 1969, honored the 2010 Emmy Awards Nominees and Presenters with its Annual Luxury Gift Lounge on August 27thand 28th 2010 at the SLS Hotel at Beverly Hills. Presenting Sponsor Exclusive Sedan Service Worldwide was on hand to chauffeur the honored guests to the event in style where GBK, the recipient of BizBash's Award for Emmy's "Best Gift Bag," and Tic Tac® offered its exclusive list of invited celebrities, VIPs, and Media a luxurious environment with gifts, spa treatments, and charity driven elements.
The GBK and Tic Tac® event drew over 20 Emmy Nominees and Presenters, including 4 winners, as well as many other honored celebrity guests, and even a few uninvited guests thanks to the 12 foot long press wall made out of more than 75,000 Tic Tacs hand glued into a diamond pattern. The morning of the first day of the event, GBK arrived to find a swarm of bees covering the press wall and enjoying the sweet flavors of the Pink Grapefruit and Freshmint Tic Tacs. Vice President of GBK, Carla Domen, commented "With a quick location change indoors and the help of an experienced Bee Keeper, it still turned into a Bee-utiful day".
Some of the top gifts at the event include: a card from Tic Tac®, the event's Title Sponsor, entitling guests to receive a one year supply of their favorite Tic Tac® flavor, customized Apple iPads equipped with electronic Save the Date invitations to their upcoming exclusive NBA All Star and Super Bowl related events from Presenting Sponsor Capital A Entertainment, i-FFICIENCY, an iPad training service, $500 Gift Certificates towards brand name designers like Balenciaga, Tom Ford, and Jimmy Choo from Beyond the Rack, gift certificates towards a rental of one of their fine brand name handbags including Gucci, Louis Vuitton, Coach, Channel, Prada, etc. from Handbag Envy, Luxury timepieces from Invicta Watch Group, trips to the Caribbean from Caribbean Living Magazine, 3D Virtual Islands from VirtualCelebrityIslands.com, semi-precious stone and metal jewelry from Elana Sigal Design, handmade shapewear and panties from TC Fine Intimates, one of a kind freshwater pearl jewelry and accessories from The Island Pearl by Leighton, a combination of creative products and fashion from Heaping Spektacle with Traver Rains, bracelets from Lovelinks America, vintage inspired clothing, swimwear and accessories from Pinup Couture, diamond pendants and $500 gift certificates from Nehita Jewelry, denim and legging from Denimocracy USA, and modern and eclectic pieces of jewelry from manu jewelry.
Some of the luxury health and beauty products included Celebrity-favorite RevitaLash, $250 gift certificates from The Shave of Beverly Hills, all natural hair vitamins from Hairfinity, hair extension accessory, the Fishnet, from Indique Hair International, therapeutic foot alignment socks by My Happy Feet, Body Cream 200ml from 3LAB, Age Management Skin Care System Gentle Facial Wash and Retinol Restart Rejuvenation Serum from GlyMed Plus® Advanced Aesthetics, whole food supplements made from scratch with fresh & organic foods from MegaFood, $100 gift certificates from The Salon by Maxime, men's and women's fragrances and cosmetics by luxury fragrance company Giorgio Armani Beauty, a selection of hair products from Peter Lamas Products, strollers from UPPAbaby, patented pull-out drawer fashionable and functional bags for parents by Mrs. Smith's Bags, and fashionable, boutique quality, 100% cotton, absorbent, handmade baby bibs and burp cloths from Backseat Driver. Some fun, unique gifts included cookbooks from Bite Me Cookbook, wickless candle home fragrance system or the new Scentsy Buddy™, a one-of-a-kind stuffed animal that fills the air with fragrance by Scentsy, and FreshCloz, the Refreshing Solution to Garment Care.
Amidst the swanky atmosphere and luxurious design, guests enjoyed an elegant spa setting and massages from CityLife Medical and Fitness Spa, manicures by Nail Garden, cocktails from Opulent Vodka and a variety of sumptuous drinks from Lombardi including Lombardi Cream of Limoncello, Lombardi Limonata, and Lombardi's new Southern Lemon liqueur. WineChateau.com hosted the wine bar and gifted a wide variety of wines as well as gift certificates to use on WineChateau.com, and Point Reyes Farmstead Cheese Co. served delicious samples and gifted certificates for gift packs - the perfect compliment to good wine! The Stuffed Cupcakes offered delicious gourmet cupcakes stuffed with 15 different fillings and Hansen Cakes displayed another masterpiece cake in honor of the Emmys. Finally, Photo Boothless was the perfect touch to the event, allowing guests to enjoy and take home photos in front of a green screen jumbo Tic Tac® box!
20% of profits from the Gift Lounge will go to the honored benefiting charities:
Hollywood Arts (http://www.Hollywood-Arts.org) - A ground breaking educational facility that uses art and music-based learning to help high-risk young people over the age of 18 improve self-esteem, develop thinking skills, master educational concepts and receive job-readiness training.
The Ann & George Lopez Foundation (http://www.thelopezfoundation.org) - Their mission is to create positive, permanent change for underprivileged children and adults confronting challenges in education and health, as well as increasing community awareness about kidney disease and organ donation.
A representative from CNN was also on site to educate guests about the upcoming 2010 CNN Heroes Awards in November. To learn more about CNN Heroes, please visit http://www.cnn.com/heroes
GBK, formerly GBK Productions, is a luxury lifestyle gifting and special events company, specializing in entertainment marketing integration. Formed in 2000 by Gavin Keilly, the company's Founder and CEO, GBK consists of five divisions: GBK Celebrity Gifting Lounges, GBK Events, GBK Weddings, GBK Charitable Consulting and GBK Marketing/PR. Widely known in the entertainment industry for bringing that little extra something into the Gifting Lounge environment, GBK offers its clients a full range of marketing services. For more information on Gavin B. Keilly (CEO), Carla Domen (VP) or GBK, please go to gbkproductions.com.
###