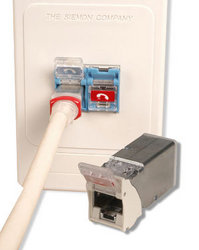 Watertown, CT (Vocus) March 31, 2010
Siemon's line of Z-MAX network cabling outlets are now available with an optional spring-loaded hinged door, which protects the outlet's internal components and critical connector mating surfaces from exposure to environmental contaminants such as dust. When the outlet is in use, the door stays perpendicular to the outlet face, ensuring that it does not interfere with stacked or adjacent outlets in high density patching or work area applications.
The new door-equipped outlets share the same extended transmission performance headroom and straightforward fast termination features found in the original Z-MAX outlet.
Using the simple, patent-pending Z-TOOL, all varieties of Z-MAX door-equipped outlets, including category 6A shielded versions, can be terminated in 60 seconds or less from start to finish, including cable preparation - the fastest RJ-based outlet termination in the industry. All Z-MAX 6A outlets offer industry best category 6A performance margin across all critical cabling parameters as part of an end-to-end system. Category 6 versions also provide significant standards performance headroom and the same user-friendly termination.
To further improve flexibility, the Z-MAX work area outlet features an exclusive hybrid flat/angled design that allows either flat or angled mounting orientations. Newly enhanced printed icons can be inserted into the door or outlet face, providing a complete color coded identification system that remains visible even when a cord is inserted.
Siemon's Z-MAX line includes complete end-to-end category 6A/class EA systems in both shielded and unshielded configurations as well as category 6/class E UTP. The full Z-MAX 6A channel consists of Z-MAX 6A outlets and patch panels, Siemon category 6A cable and patent pending Z-MAX 6A patch cords that feature a precisely tuned printed circuit board (PCB) within every plug for enhanced signal performance. The Z-MAX category 6 UTP channel features Z-MAX 6 outlets and patch panels, Siemon category 6 cable and category 6 BladePatch and MC patch cords. To explore Siemon's entire Z-MAX line, visit: http://www.siemon.com/us/zmax/
Follow Siemon on Twitter: http://twitter.com/siemoncabling/
Join Siemon on Facebook: http://www.siemon.com/go/facebook
# # #