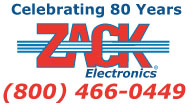 With hundreds of manufacturers, and thousands of parts, finding an electronics component is almost like finding a needle in a haystack
Duarte, California (PRWEB) February 21, 2012
Zack Electronics a leading West Coast Distributor specializing in Wire, Components, Cable, Connectors, and Installation Solutions, today announced Zackelectronics.com, a newly redesigned website created for Audio, Video, Broadcast and Data Communications Professionals to quickly and easily find electronic parts and inventory.
"With hundreds of manufacturers, and thousands of parts, finding an electronic component is almost like finding a needle in a haystack," said Darren Godoy, E-Commerce Manager of Zack Electronics. "To reduce the frustration installers and engineers experience when searching for electronic components, we've added many new features to combine our strong list of OEM brands and their robust product lines, with an intuitive, elegant and simple-to-use site design. We look forward to assisting installers and engineers find the right part at the right time and also providing electronic vendors with a new way to drive technology sales."
Built by industry leaders for industry leaders the new Zackelectronics.com now provides the following essential functions:
Site Search: Allows shoppers to search by part number, description, manufacturer and other criteria.
Navigation Menu: Allows shoppers to visualize categories with simple drop-down menu navigation.
Customer Portal: Saves user Wish List including recently viewed products, past or present orders, and alerts and email settings.
Inventory Watch: Provides shoppers with accurate inventory of items that will update in real-time when an order is submitted.
Buy More & Save: Purchase larger quantities of product at lower pricing with Zack Electronics exclusive price breaks.
International Shipping: Partnered with Bongo International, Zack Electronics now offers a hassle free way to ship internationally.
Electronics installers and engineers, and electronic purchasing professionals can register at Zackelectronics.com for FREE at http://www.zackelectronics.com.
Manufacturers interested in adding your product line to Zack Electronics free of charge, please contact us at 800.466.0449.
About Zack Electronics
Zack Electronics is a Leading West Coast Distributor specializing in Wire, Components, Cable, Connectors, & Installation Solutions for Audio, Video, Broadcast & Data Communications Professionals.
###