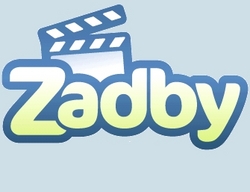 Many brand marketers are looking at online video very narrowly. Most think in terms of
Reston, VA (PRWEB) December 16, 2008
Zadby, Inc (http://www.zadby.com) has delivered over 300,000 video views for Pizza Hut's online video campaign in less than one week. The video, entitled "Kicked Out of a Pizza Place," has garnered 202,788 views on YouTube and an additional 98,317 views on MySpace. Links to the video on each site are provided at the end of this release.
To put Pizza Hut's early online video results in perspective, the World Advertising Research Center estimates that the 10th most successful viral video advertisement of 2007 only received 1 million views.
A comparable benchmark in the fast food category is Wendy's "Crazy Lettuce" video released this summer. That video has yet to break 120,000 views after several months on both YouTube and MySpace.
Zadby's General Manager, Beau Brewer, is pleased by the early results:
"Many brand marketers are looking at online video very narrowly. Most think in terms of "viral video," which involves making an advertisement so catchy that viewers voluntarily forward it to their friends. Zadby is doing something very different. We integrate branding into videos made by popular online video producers. These online video producers have established audiences--just like a popular television show.
"To put our industry into television terms, viral video is like an infomercial program while Zadby is like product placement in American Idol.
"So it's no surprise that 1,000,000 views on a 'viral video' ad is a rare accomplishment, while top Zadby producers average millions of views on every video."
Daniel Saia, VP of Brand Image and Advertising for Yum! Restaurants International, was also excited by the video's early results:
"The main reason we did this is to create more brand exposure online. Knowing that our core customer is young males, we decided to bring the brand to them online while at the same time keeping the brand young and relevant and current.
"The new generation of advertising is about creating dialogue with our customers. In addition to this video's huge view numbers, it has also received over 2,800 comments. I've read them--some good, some not so good--but the important thing is that this video clearly contributes to our dialogue with our customers about our brand.
"We like this video in particular because pizza creates a lot of brand loyalty. It's actually not an uncommon thing that our customers become so attached to our pizza that they really go out of their way to get their Pizza Hut pizza."
Two other videos were created by Zadby producers according to Pizza Hut's specifications for this campaign. Those videos have received over 225,000 additional views on YouTube over an eight-day period.
For additional information on Zadby or the Pizza Hut campaign, please contact Beau Brewer at Zadby.
Video Links:
YouTube Video
MySpace Video
Pizza Hut, Inc
As the world's largest pizza restaurant company with almost 6,600 restaurants in the United States and more than 4,000 restaurants in 100 other countries, Pizza Hut, Inc., a subsidiary of Yum! Brands, Inc. (NYSE: YUM) is America's Favorite Pizza. The company's 49-year legacy of leadership and innovation has made it the recognized leader in the $37 billion pizza category. Those hungry for more information can go to the official Pizza Hut Website at http://www.pizzahut.com.
Zadby, Inc
Zadby, Inc ("Zadby") is an online marketplace that connects brand marketers with top online video producers. Zadby's pay-for-performance model reduces risk for marketers, and provides a great way for top producers to monetize their established audience. Over 300 producers are currently registered with Zadby, including 5 of the top 10 comedy producers on YouTube. Zadby producers have created videos that have been viewed 100s of millions of times and Zadby has brokered deals to monetize over 1 million of those views.
###