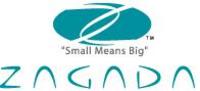 Miami and Coral Gables, FL (PRWEB) August 31, 2007
Zagada Markets today announces the launch of its Zagada RatingDRQ™ rating. This new service innovation eliminates guesswork and subjectivity in selecting privately operated vendors. The proprietary scoring algorithm and methodology enable both overall scoring, and customized scoring models that are completely adherent to the client's requirements. Corporations engaged in global sourcing will benefit by subscribing to the service to assist them with accurate and speedy vendor contracting, partnering and acquisition.
Over 600 contact center, BPO and ITO firms in the Americas nearshore (South/Central America/Caribbean) are rated - with slated expansion to cover an additional 900 firms in the Asia-Pacific and Eastern European countries. Vendors receive free rating assessments and Corporate buyers pay annual subscriptions to use the service.
DRQ™ represents Dynamic Rating Quality™ and reflects a shift from subjective- human-driven analyst rating assessments practiced by traditional analyst rating firms. The new DRQ™ scoring system employs a quantitatively driven methodology that measures 24 economic, environmental and performance variables that are most requested by Fortune 500 companies in call center, BPO and IT company selection analysis around the world. Zagada field analysts update material changes in any key variable to the system in real-time with seamless adjustments in a company's score similar to the way a stock moves.
In short, the model's algorithm tests for two key measurements - level of financial or investment value (IV) and level of operational excellence (LE) and generates a "Q " aggregate or a Quality score by the equation Q = IV + LE. The vendor receives a numeric score, which scales between 500 to a maximum of 1000. The score symbolizes a quality rating ranging from weak to excellent. A numeric score makes visualization and value judgement easy and intuitive for both sourcing managers and senior management to use in their decision-making. The model's dimensions also lend itself to customized adjustments in weights to the 24 parameters, defined by corporate buyers' priorities, without affecting a company's ultimate score.
Apart from weighing standard balance sheet ratios that score a vendor's financial stability, Zagada RatingDRQ™ proprietary model also measures and scores for soft parameters such as management performance, U.S. cultural domain experience, English proficiency, union activity and service spectrum. Business continuity and technology redundancy weights are also given to ISO9001 and CMMi certification levels, infrastructure strength and workforce scalability. Existing rating products are insufficiently outsourcing sector specific and are not designed to give dynamic rating transparency on the sector and its private operators. Zagada RatingDRQ™ fills this void.
Corporations with existing global vendor relationships or planning vendor-sourcing projects are invited to enquire about Zagada RatingDRQ™ complimentary testing and annual subscription pricing. Enquiries should be sent to Rating @ zagada.com or direct calls to 786 348 7531.
About Zagada Markets
Zagada is a boutique business development analytics firm. The company provides research, indexes, rating and tailor-made advisory services on countries, cities and service suppliers to corporations. The company principally serves the corporate buy-side and is totally focused on delivering sourcing analytics on the global outsourcing sector. The company is the co-developer, with Waagstein Research of the ZagadaWaagstein Global Outsourcing 100 Index (ZAWA100) which is the first global investable benchmark on the sector. Visit Zagada at http://www.zagada.com. Visit ZAWA100 Index site at http://www.zagada.com/index. Visit Waagstein at http://www.waagstein.se.
Contact:
Pamela Sharpe
786-348-7531
press @ zagada.com
# # #