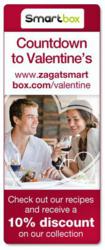 Zagat Smartbox Table for Two will continue to deliver New York City's top recipes straight out of the kitchens of our fan's favorite restaurants
New Brunswick, NJ (Vocus/PRWEB) February 10, 2011
Zagat Smartbox Table For Two continues the "Countdown to Valentine's Day" as they unveil some of the most romantic recipes from select New York City Restaurants on a daily basis through February 14. Restaurant fans can access the recipes and exact preparation directions by simply following Smartbox by clicking on Twitter and Facebook.
Not only have fans been able to view new recipes, but also have had the opportunity to receive an instant 10% discount on any Zagat Smartbox Table for Two - just in time to treat their loved one to a romantic dinner. Throughout the week, all of the Zagat-rated restaurant recipes can be seen by visiting http://www.ZagatSmartbox.com.
"This has been an exciting Countdown to Valentine's Day for our Smartbox twitter and facebook followers," said David Meyers, Smartbox CEO North America and UK. "For all of this week leading up to Valentine's Day, Zagat Smartbox Table for Two will continue to deliver New York City's top recipes straight out of the kitchens of our fan's favorite restaurants."
With the Zagat Smartbox Table for Two, dining enthusiasts can treat their valentine to a wonderful meal at any participating Zagat-Rated restaurant in one of the following cities: New York, Chicago, Los Angeles, San Francisco or Washington, D.C. Smartbox is the leader in this new trend of gift giving by providing gift cards for an array of diverse experiences and themes.
Already an international gift box leader, Smartbox is available in 20 countries across the world. The key to success has been in the simplicity of the process. Begin by choosing a budget ranging from $49 to $369 and then choose one of the 7 available categories.
The available gift experiences are:

Zagat Smartbox Table for Two – dinner for the recipient and a guest at their choice of any participating Zagat-Rated restaurant in one of the following cities: Chicago, Los Angeles, New York, San Francisco or Washington D.C. ($99)
Gourmet Retreats – a one night stay in lavish accommodations throughout the U.S., sumptuous five-course dinners, in-room massages, and plush king size suites. ($369)
Adrenaline – hundreds of exhilarating activities to choose from, including: climbing a slippery frozen waterfall, racing around a track on a motorcycle and more. ($299)
Charming Getaways – one-night stays in historic homes, rustic ranches or quaint Victorian Inns. ($129)
Serenity – health and wellness treatments from Vichy showers and ice cream pedicures to champagne manicures and lemongrass body scrubs. ($119)
Adventure – an opportunity to rush down an ice tunnel in a bobsled or cruise the sky in an ultralight. ($69)
Fun for All – an activity for two, whether it be an elegant fencing lesson, wine tasting, or a spooky ghost tour. ($49)
For more information on the full Smartbox collection of experience gifts, please visit our website at http://www.smartbox.com/us.
About Smartbox
Smartbox is the next generation of gift cards allowing one to choose from a selection of activities and destinations within a given theme. Smartbox is presented in a gift box featuring a color guidebook with full details of each activity or escape. The recipient selects an experience, makes the reservation directly with the establishment (contact details are provided in the guidebook) and redeems the gift card upon arrival. Currently, Smartbox is available in the Northeast, Mid-Atlantic, Southeast, Great Lakes, Texas & California regions of the U.S.
About Smart&Co
Since its creation, Smart&Co. has grown at an exceptional rate. Having branches in Europe, the U.S., and Canada with its head office near Paris, today it employs more than 1,000 employees. Smart&Co. and its Smartbox gift experiences are specialists in creating interesting trips and leisure activities. Since the founding of the group, more than 5 million Europeans have experienced Smart&Co. In 2004 Smart&Co. was awarded the Oscar for Innovation -- Smart&Co. continues to find new ways of bringing people together for leisure pursuits.
# # #