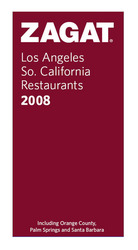 Few cities offer more variety than Los Angeles' dining scene
Los Angeles, CA (PRWEB) September 25, 2007
Zagat Survey today released the results of its 22nd annual Los Angeles / Southern California Restaurants survey. Mélisse has reclaimed the top spot for Food; Spago is Most Popular for the first time; Hotel Bel-Air wins both Top Décor and Service for the second consecutive year while Mario Batali and Nancy Silverton take Top Newcomer honors with their Hollywood hotspot, Pizzeria Mozza.
The 2008 Zagat Los Angeles / Southern California Restaurants guide, released to area bookstores this week, covers 2,187 restaurants and is based on the experiences of 8,859 locals who eat out or take out over half their meals.
"Few cities offer more variety than Los Angeles' dining scene," said Tim Zagat, co-founder of Zagat Survey. "The people of Paris can only dream of having as many top quality Japanese, Chinese, Italian, Mexican and Cal-Med style restaurants from which to choose.
Top Newcomers: Besides Pizzeria Mozza, notable newcomers include Batali's Osteria Mozza, Tom Colicchio's Craft, Eric Greenspan's Foundry on Melrose, Jason and Miho Travi's Fraiche and Larkin Mackey's Larkin's.
Front of House Needs Help: Rating the Los Angeles dining scene as a whole, the surveyors gave the City's Culinary Creativity a 21 (i.e., very good) on the Zagat 30-point scale and Diversity a 25 (excellent). However, front of the house scores were much lower with Hospitality rating a 14 and Table Availability a 15. Confirming this, 72 percent of all complaints relate to service, while food and prices net only 5 percent and 4 percent, respectively. In sum, the front of the house continues to be the restaurant industry's weak link.
Spending More and Tipping Less: Sixty-eight percent of Angelenos say they spend more on dining out now than two years ago. However, while the average cost of a local meal rose 4.3 percent since last year to $33.29, that's still a dime below the national average of $33.39 and the competition in Chicago, San Francisco and New York City. Staying in tune with their attitude towards restaurant service and hospitality, local diners' give an 18.4 percent average tip which is also below the 18.9 percent national average.
What Comes Naturally: Local, organic and sustainably raised produce are more than just a mantra for Leo-likes, as 54 percent of surveyors said they were willing "to pay more" for food that is organic/sustainably raised and 61 percent prefer food that's locally grown or raised. Reflecting this preference are newcomers, Blue Velvet and Rustic Canyon, as well as Suzanne Goin's A.O.C. and Lucques, Dominique Crenn's Abode and Chef Le Balch's eponymous Santa Monica restaurant Josie. Neil Fraser's Grace and Quinn and Karen Hatfield's restaurant are so green-minded, they use recycled vegetable oil to run their cars. What surveyor's don't like are transfats -- 68 percent want them banned.
Let them Eat Steak: Putting greening aside, steakhouses are seeing a rise in popularity and, more importantly, sales. New chop shops like Wolfgang Puck's Cut, the kosher Prime Grill and former Mayor Richard Riordan's Tavern, are popping up everywhere while classics like Ruth's Chris, Fleming's, Mastro's and Morton's continue to rope in herds of customers.
Wine Bar Wrap Up: Offsetting the steakhouse trend, diners are being served smaller plates at a slew of wine bars that have recently opened up. Hollywood's Lou, Santa Monica's Rustic Canyon, West LA's Upstairs 2, Vertical Wine Bistro in Pasadena and the soon-to-open, The Winery in Tustin (Orange Co.), joining the 30+ wine bars listed in the new guide.
Top Neighborhoods: Santa Monica (with Mélisse, Josie, Capo, Chinois on Main, Valentino) remains Zagat surveyors' pick for the area with the best restaurants, followed by West Hollywood and Beverly Hills. But other areas are challenging those destinations including Culver City (with Beacon, Ford's Filling Station, Fraiche, Tender Greens and Wilson) and Downtown (with Blue Velvet, e3rd, Liliya, Takami Sushi and Tiara Cafe).
On the Horizon: An influx of celebrity chefs are planning to open up shop in the City of Angels. In addition to the anticipated arrival of Alain Giraud's yet-unnamed brasserie in Santa Monica's Clock Tower building, Todd English's Hollywood tapas joint Beso (funded by Eva Longoria) and restaurants by Gordon Ramsay, Charlie Palmer and Laurent Tourondel are expected to open soon.
Diners can also count on seeing more Japanese Robatayaki bars and other Japanese restaurants offering traditional Japanese pub snacks in addition to sushi. Newcomers Izaka-Ya by Katsu-Ya on Third Street, Izakaya Kiichi in WeHo, Honda-Ya in Little Tokyo and Orange County's Izakaya Zero are leading the charge.
Like all Zagat Survey guidebooks, the 2008 Los Angeles / Southern California Restaurants guide is made by consumers for consumers. In addition to Most Popular and Top Food, the guide also includes such useful categories as Late Dining, Outdoor Dining, Romantic Places, Singles Scenes and, of course, Stargazing. Restaurants are also broken out by cuisine, location, and dozens of other groupings.
The 2008 Los Angeles / Southern California Restaurants guide ($14.95) was edited by Lena Katz and Angela Pettera, Gretchen Kurz in Orange County, Merrill Shindler, Michelle Golden and Karen Hudes. It is available at bookstores and other retail outlets and via ZAGAT.com.
About Zagat Survey, LLC
Known as the "wildly popular" "burgundy bible", Zagat Survey is the world's most trusted source for information about where to eat, drink, stay and play. With more than 300,000 surveyors, Zagat Survey rates and reviews restaurants, hotels, nightlife, movies, music, golf, shopping and a range of other entertainment categories and is lauded as the "most up-to-date", "comprehensive" and "reliable" guide ever published. Zagat content is available to consumers wherever and whenever they need it: in book format, on ZAGAT.com, via the downloadable ZAGAT TO GO for smartphones and on the mobile web with ZAGAT.mobi. For more information, visit ZAGAT.com
Media Contact: Michael Mahle, 212-404-6431
# # #