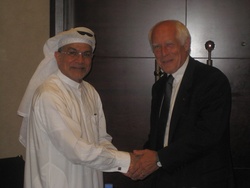 The opportunity to join forces with 4C Controls and see our capabilities flourish inside a global satellite, satellite images, security, surveillance and access controls platform is compelling
NEW YORK (PRWEB) September 4, 2008
Under the terms of the agreement, 4C Controls will acquire 80% of Zahra in return for an undisclosed combination of cash and securities of 4C Controls. The founders and senior management of Zahra will retain 20% ownership of Zahra. The parties anticipate signing a supplemental agreement regarding definitive details applicable to the transaction and closing the acquisition prior to the end of the third quarter 2008. The acquisition of Zahra is the first of further strategic acquisitions which 4C plans as part of its growth strategy and business model.
4C Controls intends to utilize Zahra to facilitate growth in international sales and operations. In 2007, Zahra had gross revenues of approximately US $11.8 million and expects to close 2008 with revenues of approximately US $25 million. Zahra currently has 105 employees of whom 37 are engineers, 44 are technicians and 24 are office staff. 4C Controls anticipates that substantially all will continue working for the company after the closing of the acquisition.
Since Zahra's inception in 1983, the company has been a leading provider of high technology products, services and solutions for the security and communication industry in Dubai, Abu Dhabi and throughout the United Arab Emirates. Zahra is a manufacturer, trader & exporter of Access Control Systems, Building Management Systems, Intercom, Video Conferencing, CCTV Surveillance System, Communication Solutions- Telex, Copyette EH, EDAT/ZIN-Digital Conversion Cards, CDP 2001, XGEN, Narrator/Tutor and Replica. It is also a Card Solution supplier, integrator and provider.
Zhara's integrated security, surveillance and access controls clients include the highest levels of governmental organizations, such as Crown Prince Management (Abu Dhabi), Central Military Academy (Dubai), Abu Dhabi Defense, General Postal Authority, Ministry of Labor Office and Social Affairs, Dubai Airport Facility, Dubai Broadcasting Corporation. Zahra's current portfolio of products and services is extensive, and Zahra foresees to further grow by continuing to align itself with the latest innovations in the field, and capitalizing on its track record with the many prestigious and noteworthy clients that Zahra has served, including the following
U.A.E. Central Bank, Barclays Bank, Citibank ABN Amro Bank, Abu Dhabi Investment Authority Dubai Marina, Jumeirah Beach Hotel, Zayed University Cisco Systems, Philips Middle East, Pfizer Intl. Corp. Toyo Kanetsu, Nestle, ABB, CCC, Pepsi-Cola International Reuters, Lucent Technologies, British American Tobacco Estee Lauder, Kinko's Middle East, Abbott Laboratories Dubai Petroleum, Saatchi & Saatchi, Shell Middle East Bechtel International, ETISALAT, Ford Direct Markets A detailed list of Zahra's clients may be viewed at: http://www.zahratech.com/references.htm.
The acquisition of Zahra will provide 4C Controls with high quality references and experienced high technology engineering and technical teams to execute large scale projects, especially in connection with the 4C Controls strategic alliance with Sire Contracting Company. Zahra will change its name to 4C Security Systems UAE to unify and extend the 4C Controls international brand.
Mr. Jean-Robert Martin, President and Chairman of 4C Controls, stated, "Government and commercial enterprises have complex security and surveillance needs, and they require more attentive and sophisticated partners to help them solve these challenges. With the addition of Zahra to our products and services capabilities, we can quickly customize and deliver integrated high technology solutions for our worldwide customers thereby being responsive to their unique needs on all fronts. Our end-to-end solutions will be significantly enhanced with broad scale security risk assessment, custom system design and specialized component structures. Zahra has a platinum quality track record working with major governmental and commercial organizations. We are very pleased to have Zahra join us and we look forward to having them grow with us."
"The opportunity to join forces with 4C Controls and see our capabilities flourish inside a global satellite, satellite images, security, surveillance and access controls platform is compelling," said Samir Sajwani, founder and Deputy CEO of Zahra. "We are confident that, with 4C Controls, we can continually improve results and aggressively grow our Middle East regional and international client base."
Mr. Anastasios Angeloglou, CEO of BQT Solutions Limited with whom 4C Controls has a strategic alliance, said "We anticipate the acquisition of Zahra by 4C Controls to provide long-term developmental benefits to all parties. We expect Zahra to deliver strong sales and revenue channels for 4C Controls as well as BQT Solutions products and services in the booming market in the Middle East. We also intend to open up distribution for Zahra in our global markets."
About 4C Controls Inc.
4C Controls is an early stage company offering high technology integrated security solutions providing real-time early warning and reduction of time scales from threat-detection to termination in the field. The Company's primary focus is on cutting-edge technologies and large distribution networks including high resolution synthetic aperture radar satellites (SAR) and satellite images; ground high performance radars for intrusion detection and electronic surveillance / access control markets such as biometric, radio frequency identification (RFID), real time locating systems (RTLS) and closed-circuit television (CCTV).
Forward-Looking Statements
This press release contains 'forward-looking statements' as defined in the U.S. Private Securities Litigation Reform Act of 1995. These forward-looking statements are based upon currently available competitive, financial, and economic data and management's views and assumptions regarding future events. Such forward-looking statements are inherently uncertain. 4C Controls cannot provide assurances that any prospective matters described in the press release will be successfully completed or that it will realize the anticipated benefits of any transactions. Actual results may differ materially from those projected as a result of certain risks and uncertainties, including but not limited to: global economic and market conditions; the war on terrorism and the potential from war or other hostilities in other parts of the world; availability of financing and lines of credit; successful integration of acquired or merged businesses; changes in interest rates; management's ability to forecast revenues and control expenses, especially on a quarterly basis; unexpected decline in revenues without a corresponding and timely slowdown in expense growth; its ability to retain key management and employees; intense competition and the ability to meet demand at competitive prices and to continue to introduce new products and new versions of existing products that keep pace with technological developments, satisfy increasingly sophisticated customer requirements and achieve market acceptance; relationships with significant suppliers and customers; as well as other risks and uncertainties, including but not limited to those detailed from time to time in the 4C Controls SEC filings. 4C Controls undertakes no obligation to update information contained in this release.
MULTIMEDIA GALLERY http://www.businesswire.com/cgi-bin/mmg.cgi?eid=5770177