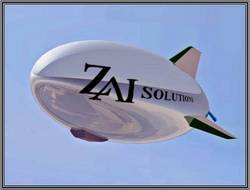 Our clients are on the forefront of technology innovation, creating the solutions on which the government increasingly depends
Vienna, VA (Vocus) June 22, 2010
ZAI Solutions says it understands the frustrations that come with writing proposals for government contracts: endless hours of tedious research for making the bid, sitting around the table in the conference room, now relabeled the "war room," trying to figure out where to start or who to team with, and writing long, hand-cramping proposals only to find out that the government requirement didn't include that one part of the solution in the final version of the Request For Proposal (RFP).
By guiding technology innovators through the intricate, often intimidating government marketplace, ZAI Solutions provides business development, sales, and capture services for innovative technology companies targeting government markets at the Federal, state and local levels. The company's familiarity and relationships with government, partners and vendor channels facilitates and speeds market penetration for clients on the forefront of technology innovation.
"Our clients are on the forefront of technology innovation, creating the solutions on which the government increasingly depends," said Steven Groves, Chief Technical Officer and Lead Scientist of ZAI Solutions.
The capture, bid, and proposal services offered by ZAI include formulating new business strategy and pipeline assessments, as well as helping their clients craft and position themselves using four key elements of winning a proposal. They provide clients with assessments of the maturity of an organization's business development using the ten elements of business development process. The process allows clients to build more mature and sustainable ways to prosecute new business.
With this, Groves said the government and public sector knowledge of their experts will allow a client to maximize their access to business opportunities.
"We offer qualified people with the skills necessary to accomodate all aspects of your proposal staffing requirements," said Groves.
ZAI Solutions offers a quick response to fulfill a client's staffing needs and over 150 years of combined experience. Evidence of the company's strength can be found in their past performance, which shows win ratios of over 70 percent (while offering competitive rates) in a highly competitive market.
They have a proven methodology to the Capture, Bid and Proposal conundrum. Through a powerful combination of government sales experience, industry expertise and channel management, ZAI Solutions accelerates the sales process by guiding technology providers through government capture, sales and contractual challenges thereby improving performance, shortening time-to-market and enhancing client profit.
The process involves understanding and focusing on the long and short-term goals of the client and proposal, while helping a client develop and maintain secure relationships with government and industry. They also help develop and implement potent targeted sales and business development priorities for IT companies.
ZAI Solutions is a breath of fresh air that treats each of their clients as a unique entity with their own special market requirements and opportunities. They provide unbiased recommendations regarding Federal sales, contracts, the capture process, recruiting, and partnering.
"We will present the best recommendations with the best solution providers in our industry," said Groves.
ZAI Solutions can help IT companies looking for growth in the federal market through their winning capture, bid and proposal strategies, and are even willing to help a client assemble a winning team. For more information on the process, contact ZAI Solutions Adam Ulan toll free at (877) 481-6971 extension 104.
# # #