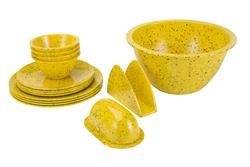 Spokane, WA (Vocus) May 14, 2010
As a global tableware and kitchen prep company, Zak Designs is focused on colors that are both fun and fashionable. No line has ever epitomized that commitment more than the patented Confetti line of tabletop and kitchen prep products. This year, Zak is renewing that commitment by coloring the festive line in the latest global color trends.
From New York to Paris to Milan, fashionable houswares are exploding in bright shades of yellow and orchid. This year, as consumers update their tables and kitchens in these popular palettes, they'll also have a selection of Confetti products to complement their fashionable new look.
The new orchid Confetti line will include a dinner plate, salad plate and individual bowl as well as an extra large serving bowl. The yellow Confetti line will include the same product as well as a covered butter dish.
Since Confetti was introduced as the first and only line made from recycled melamine, it has become one of the most popular lines that Zak offers – not just because it's green, but because it's fun. And with the introduction of the yellow and orchid lines, that fun just got a whole lot brighter.
With offices across the globe, Zak stays at the forefront of emerging fashion, color and design trends from around the world. By incorporating those styles into modern and innovative tabletop and kitchen prep collections, Zak continues to be recognized as a global authority on trend-focused housewares. More information is available at http://www.zak.com.
Press Contact
Christopher Cogley
Zak Designs, Inc.
970-985-4605
http://www.zak.com
###