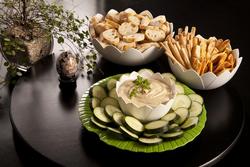 Spokane, WA (Vocus) July 1, 2010 –
When it introduced its Garden Series, Zak Designs proved that serveware doesn't have to be boring or cumbersome. That concept will be reinforced this year with the launch of the newest addition to the Garden Series of products – the Lotus Bowls.
Hailed by many cultures and religions as a flower of peace and tranquility, Zak's Lotus Bowls set add a pristine quality to any party. Available in either tonal pinks or vibrant white, the Lotus Bowls are made from durable melamine and feature three dimensional texture on all the pieces.
When used separately, the three serve bowls are suited to hold a wide variety of snacks and appetizers. The specially designed serve plate features a cut out thumb rest making it ideal for offering hors d'oevers to guests. When the set is stacked together, however, it creates an image of the famed flower that will be a topic of conversation at any get-together.
###