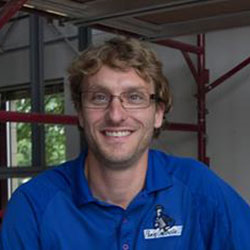 Zak is a true leader, a visionary and the Council is fortunate to have had him in a leadership position over the past 5 years.
Des Moines, IA (PRWEB) January 31, 2017
At their recent meeting on January 20th, 2017, the Home Builders Association and the Remodeler's Council of Greater Des Moines chose Zak Fleming, of Fleming Construction, as Remodeler of the Year. Members of both of these groups voted for Zak to receive the honor based on his outstanding service and dedication to the council throughout 2016. He was not only a past council Chairman, but continued his service to the council in 2016 as the chair of the membership committee. During that time, he initiated a membership program that assisted the council in gaining members and increasing involvement.
Current Remodelers Council Chair, Steve Archer stated, "Many thanks to Zak for his service to the Remodelers Council over the years. We are lucky to have him as a member." The Remodelers Council of Greater Des Moines is a group of remodeling contractors, building material suppliers, and specialty trade contractors that are dedicated to providing exemplary customer service and superior craftsmanship while maintaining a high standard of professionalism. They do this through their participation in educational programs and networking events that help advance their knowledge and skills.
The Homebuilders Association of Greater Des Moines is a non-profit trade organization with more than 400 builders and suppliers as members. Members are dedicated to advancing the building industry and the surrounding communities they serve by connecting home owners with top construction professionals. In response to Zak receiving this honor, Dan Knoup the HBA Executive Officer said, "Zak is a true leader, a visionary and the Council is fortunate to have had him in a leadership position over the past 5 years."
As owner of Fleming Construction, Zak has more than 15 years of experience in the construction industry. He is also a Master Electrician and has earned the Certified Graduate Remodeler designation for exceptional business integrity, technical competence, and commitment to customer satisfaction. In addition to his current honor as Remodeler of the Year, Zak was named to Professional Remodeler's 40 Under 40 Class of 2014 as one of the industry's rising stars. Fleming Construction has also been awarded the Remodelers Council "People's Choice Award" in 2015 and the "Best of Houzz" award in 2014, 2015, and 2017.
----------------------------------------
Fleming Construction is a Des Moines based home remodeling contractor that offers its customers a unique vision for remodeling kitchens, finishing basements, and transforming bathrooms into the space of their dreams. Zak and his team are dedicated to giving their customers a hands-on approach that starts and finishes with the best quality materials and exceptional customer service. Visit their website at http://www.flemingconstructionllc.com to learn more about the business and see examples of the extraordinary work they have done.